The Berenstain Bears LIVE!
This event has already passed. Please check our calendar for more fun events in the region!
March 30, 2019
1040 Ridge Road
Munster, IN 46321

Time:

Shows are at 10am, 12pm and 2pm
Website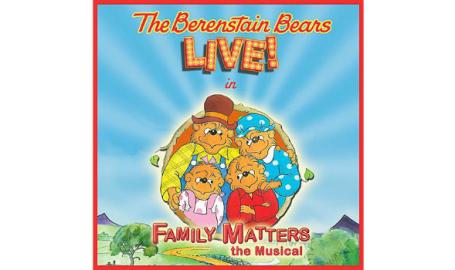 Stan and Jan Berenstain originally published The Berenstain Bears in 1974 and have gone on to publish over 300 books, create three animated television series, an upcoming feature-length movie, and now a brand new musical! Approved by the authors themselves, The Berenstain Bears LIVE! in Family Matters, the Musical is an adaptation of three of The Berenstain Bears' most beloved books: The Berenstain Bears Learn About Strangers, The Berenstain Bears and Too Much Junk Food, and The Berenstain Bears' Trouble at School.
Appropriate for Mamas, Papas, and Young Cubs of all ages, in this live musical production filled with fun songs and dancing, the Berenstain Bears learn important life lessons. Brother gets a bad grade on a test at school. At first, he tries to hide his troubles but soon realizes opening up to his family is the best way to help solve his problems. Sister gets a little carried away as she starts saying "Hello" to everyone she meets at the Village Green. Finally, when Doc Grizzly points out that the Berenstain Bears are eating way too much junk food, it is a tough pill to swallow, especially for Papa, who rips his overalls (exposing his red polka dot underwear!) trying to show off how fit he is. Everyone's secret is revealed when Mama finds Brother's test, Papa's junk food wrappers, and Sister's new friend, Mr. Frog, who she snuck into the house from the Village Green. Using the iconic stories and imagery of the books, you and your family will see Bear Country come to life on stage while learning about the importance of honesty, health, and safety. In the end, it becomes clear to each of the Berenstain Bears that what truly matters is family.