The Soiree Virtually
7/19/2020, 7/29/2020
Food Bank of Northwest Indiana
6490 Broadway
Merrillville, IN 46410

Website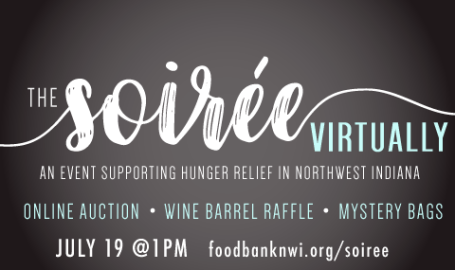 The Soiree Virtually is the online adaptation of the Food Bank of Northwest Indiana's premier fundraising event, featuring an Online Silent Auction, Wine Barrel Raffle, Mystery Bags, and two Event Live Streams hosted by The Bill and Kali Show. The event will celebrate the hunger-fighting heroes in our community and some of the Region's most talented musicians.

Event Kick-Off Live Stream (Sunday, July 19th, 1pm-3pm)
* Online Auction: Bid on a variety of items including jewelry, travel packages, experience tickets, and more.
* Wine Barrel Raffle: Enter for a chance to win a barrel filled with wine bottles, valued at $300
* Mystery Bags: Receive a bag full of mystery items including gift cards, experience tickets, jewelry, and more.
* Souvenir Beer Koozie: Keep your beer or other beverage chilled in this branded koozie.
Wrap-Up Live Stream (Wednesday, July 29th, 1pm-3pm) 

For additional information, please contact Amy McDunn, amcdunn@foodbanknwi.org, 219-980-1777 ext. 313.