Work, Fight, Give! Fighting for the Homefornt
February 12, 2021 - April 12, 2021
1040 Ridge Rd
Munster, IN 46321

Recurrence:

Recurring weekly on Monday, Tuesday, Wednesday, Thursday, Friday, Saturday

Time:

10:00 AM to 3:00 PM
Website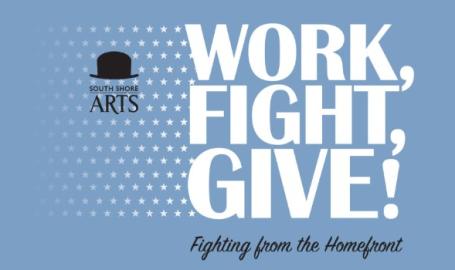 In recognition of the 75th anniversary of the end of World War II, South Shore Arts is pleased to present Work, Fight, Give: Fighting from the Homefront, now open through April 12, 2021. The exhibit features a collection of over 60 World War II propaganda and relief posters, now considered to be both artifacts and artworks.
Work, Fight, Give: Fighting from the Homefront focuses on those who gave their artistic talents to design posters that were aimed at the hearts of Americans. They were intended to persuade citizens to donate their time, resources and money towards war relief efforts that would aid soldiers fighting overseas and countries left broken and devastated after the war.
 Many American artists and illustrators designed these propaganda posters, which often displayed historical and cultural symbols representing various countries and cultures.  Among the contributing artists who were employed by various war relief agencies were American Gothic painter Grant Wood, illustrator Arthur Szyk, comic artist James Montgomery Flagg and Martha Ward. The exhibit provides information on the artists who created these posters, along with agency leaders, movie stars, celebrities and volunteers, all of whom helped to make these designs a reality.    
 Work, Fight, Give: Fighting from the Homefront is comprised of posters and memorabilia from Exhibits USA, a program of Mid-America Arts Alliance, and the Detroit Historical Society in Detroit, Michigan.