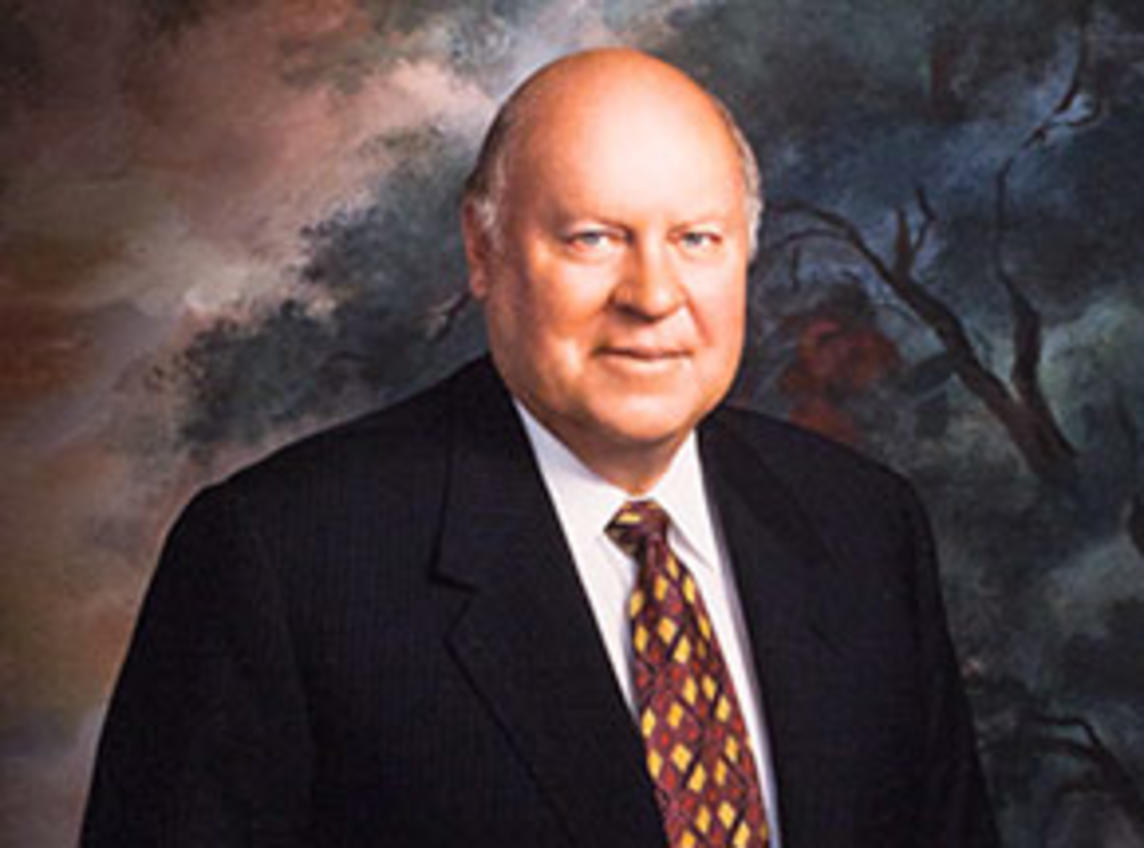 Dean White
Entrepreneur, Visionary and Philanthropist
Class of 2017
The contributions of Dean White (1923-2016) to Northwest Indiana and Indiana are significant, and it is believed his legacy will live on for generations. Clearly, his commitment to the quality of life of Northwest Indiana is remarkable. Even though he became one of America's richest men, he continued to call Northwest Indiana home.

His philanthropy was often quiet and always generous. His generosity made it possible to restore and maintain the iconic old Lake County Courthouse and was actively assisting in the development of the 95-acre sportsplex facilities in Crown Point, kick-starting the breathtaking South Lake YMCA project, rescuing the Merrillville Veterans Memorial Project, and creating the innovative Center for Hospitality and Tourism Management at Purdue Northwest. He also had the vision to donate the land the South Shore Convention and Visitors Authority sits upon, as well as making many other grants and donations for worthy causes.

Mr. White began his career as a teenager selling ads for his father's small advertising business, which was founded in 1935 in Lincoln, Nebraska. The business relocated to Shelby, Indiana in 1950 and, as it grew, moved to Merrillville in the early 1970s. Originally Mr. White focused on billboards and eventually his company would become one of the nation's largest outdoor advertising companies.

He was always alert to additional opportunities. One came from the billboards and signage he was doing for a new hospitality firm, Holiday Inn. He saw an opportunity to become a franchisee and in the 1970s he opened the Holiday Inn (later the Radisson) in Merrillville. Then at the undeveloped intersection of U.S. 30 and I-65, he saw another opportunity. To help make it a destination, he built the Star Plaza Theatre, a large venue that over the years consistently hosted big-name entertainment. At first, many critics thought it folly to build such a large theatre so far from downtown Chicago. As was often the case, his vision was better than the experts.

He further saw opportunity in Cedar Lake, a community long overlooked. He and his partners built classy condominiums there along with an upscale restaurant. Over the years, Mr. White has been involved in developing thousands of residential units in various parts of the country.

In the long final phase of his career, Dean White became known for hotel construction, ownership and management. His hotels define the skyline in many cities, including Indianapolis and his company became the largest franchisee of Marriott Hotels.

It all began with long hours, often working from the back of a pickup truck. Mr. White interrupted his career with service in World War II in the U.S. Merchant Marine. What he did with his life from then on is truly legendary.

Dean White was nominated by Calvin Bellamy.