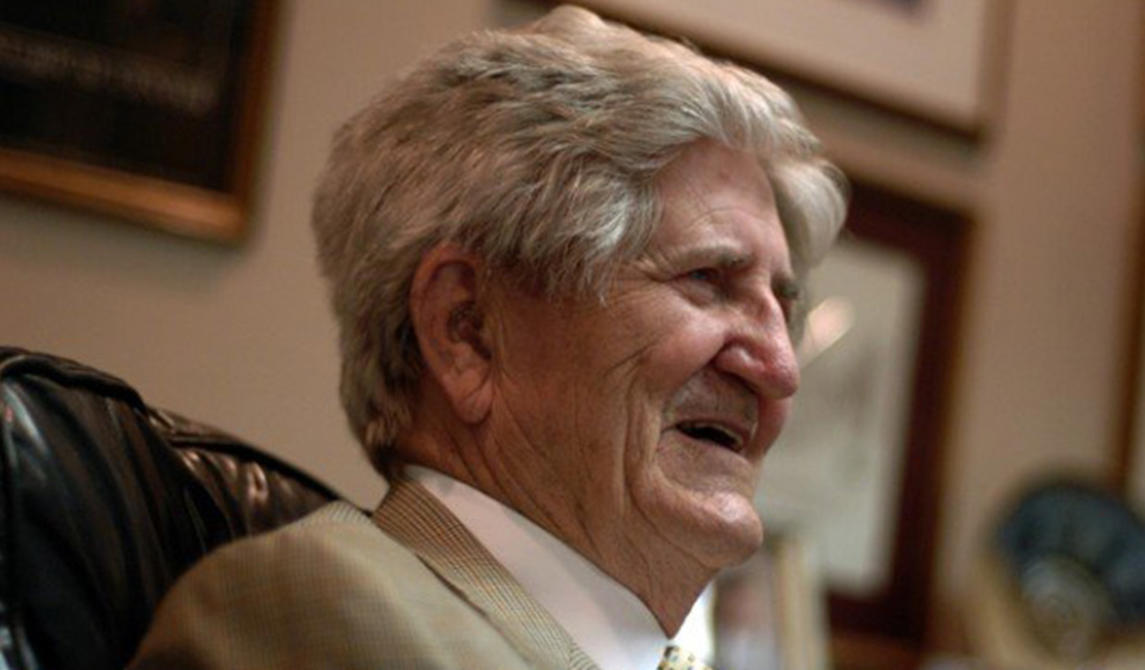 Donald S. Powers
His Impact Reaches Beyond Our Region!
Class of 2020
Photo by The Times

Donald S. Powers (1920-2015) was a soft-spoken gentleman who often characterized himself as "just a country boy". Originally from Harrodsburg, Kentucky, he maintained something of a Bluegrass State drawl throughout his life. However, that calm and even tone had a compelling effect on his listeners.

Don's "make a world of difference" was broad. As a night fighter pilot off carriers during World War II, he did his share to "make the world safe for democracy." He joined the Navy shortly after Pearl Harbor and was discharged in 1946, but recalled to active service in 1950 and served as a jet fighter pilot in Korea.

His beginnings in civilian life were modest. Upon graduation from Purdue University, he was employed as an assistant agent in the Lake County Agricultural Extension Office. He also served as Secretary of the Lake County Fair Board. Following his return from the service, Don ultimately entered the insurance and real estate business, opening the Don Powers Agency in Munster, Indiana.

Don's "can do" contributions are well known. He is recognized as the chief developer of Munster. He developed Briar Ridge County Club, and contributed financially to creating significant initiatives such as the Center for Visual and Performing Arts and Community Veterans Memorial in Munster.

However, it was in healthcare that Don perhaps made his most significant influence. He helped create the Community Foundation of Northwest Indiana, serving as its president and chief executive officer. The Foundation created and now supports and oversees the work of the Community Healthcare Systems, which consists of three hospitals - Community Hospital in Munster, St. Catherine Hospital in East Chicago and St. Mary Medical Center in Hobart, along with clinics and urgent care centers. Community's success fueled the "multi-million dollar corridor" that encompasses many of the hospital's ventures.

Don also impacted Purdue University Northwest and the financial sectors, including serving on the boards of Mercantile Bank and NIPSCO. Not as widely known is Don's service for 15 years on the statewide Board of Trustees of Purdue University. From 1981 to 1989, he served as president of the board. The largest building program in the history of the campus was passed during his tenure. This included significant investments in the civil and electrical and computer fields of engineering that helped educate the next generation of engineers and innovators.

Today, Purdue's civil engineering program - involved in world-shaping feats such as the Golden Gate Bridge and the Panama Canal - is renowned for having top 10 undergraduate and graduate programs in the country. The School of Electrical and Computer Engineering boasts Purdue's largest enrollment.

Don may have seen himself as "just a country boy", but his impact reaches beyond our region and continues to resonate today.

Donald S. Powers was nominated by Monsignor Joseph Semancik, PhD and John Davies.