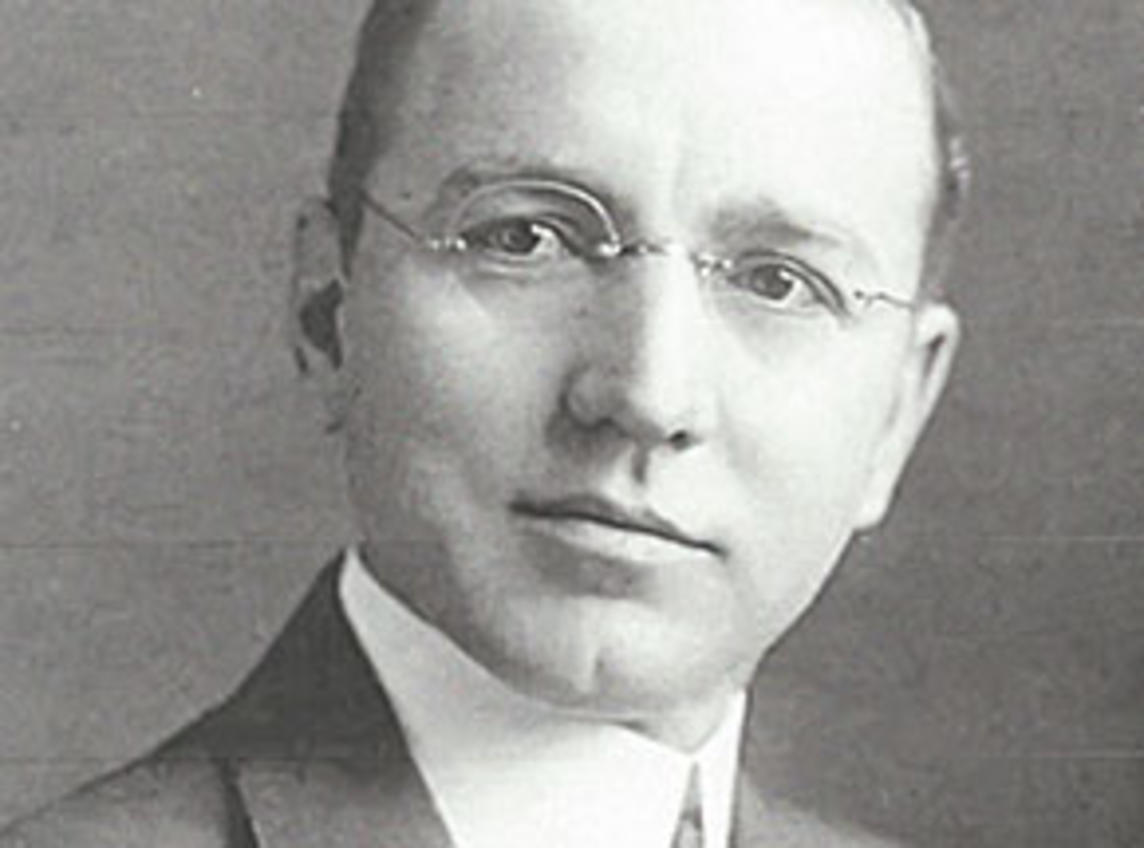 Dr. William M. Scholl
Innovator in the Foot Care Industry
Class of 2014
Dr. William M. Scholl was the third generation of a German family that immigrated to the United States in 1852. Born on his father's dairy farm in LaPorte, Indiana, he became a true innovator in the foot care industry. His main theory was that if your feet hurt, then the rest of your body hurts, so he dedicated his life to developing and providing a diversity of foot care products to people around the world.

William loved to work with leather instead of performing his chores on the farm. At age 15, he made his own waxed thread and mended a horse harness using 132,000 stitches. On his way to Chicago, he had a job at a shoe shop in Michigan City as a shoemaker's apprentice for $3 a week. At about the age of 16, he was at Armour, a small village situated on the northwest shore of Cedar Lake, where his grandfather, Peter Scholl, Sr., resided. It was here, in the Lauerman general store, where young William continued learning to make shoes, using his grandfather's cobbler tools which are now on display at the Red Cedars Museum. He also briefly worked in Hammond.

Once in Chicago, he began working at Ruppert's Shoe Store on Madison Street for $8 a week. He was 17 years old at the time. As he continued to work at Ruppert's, he began attending the Illinois Medical College, now Loyola University. By 1904, he earned his medical degree. Soon after, he began his business as a producer of orthopedic foot appliances known as Dr. Scholl's. In 1905, he was granted a patent for the Tri-Spring device and a few months later he filed patents on the Foot-Easer and another in-step arch support. Dr. Scholl went on to invent more than 1,000 foot aids. Then in 1910, his brother Frank joined him in the business and Scholl Manufacturing Company, Ltd., in London, England, was established. By 1928, his first retail store was opened. He would serve as the company's president and chief executive officer until March 1968.

Dr. Scholl also had a great concern for education and the improvement of the world. In 1912, he founded the Illinois College of Chiropody and Orthopedics, which became the Dr. William M. Scholl College of Podiatric Medicine. It is now part of the Rosalind Franklin University of Medicine and Science of North Chicago. Later in 1947, he founded the Dr. Scholl Foundation, which provides financial assistance to organizations committed to improving our world. Interestingly enough, the Newberry Library's Center for Family and Community History in Chicago became the Dr. William M. Scholl Center for American History and Culture in 2008, which is supported by the Dr. Scholl Foundation. Although he is gone, Dr. William M. Scholl's foot care legacy continues to live on.

Dr. William M. Scholl was nominated by Scott Bocock, Cedar Lake Historical Association, Inc.