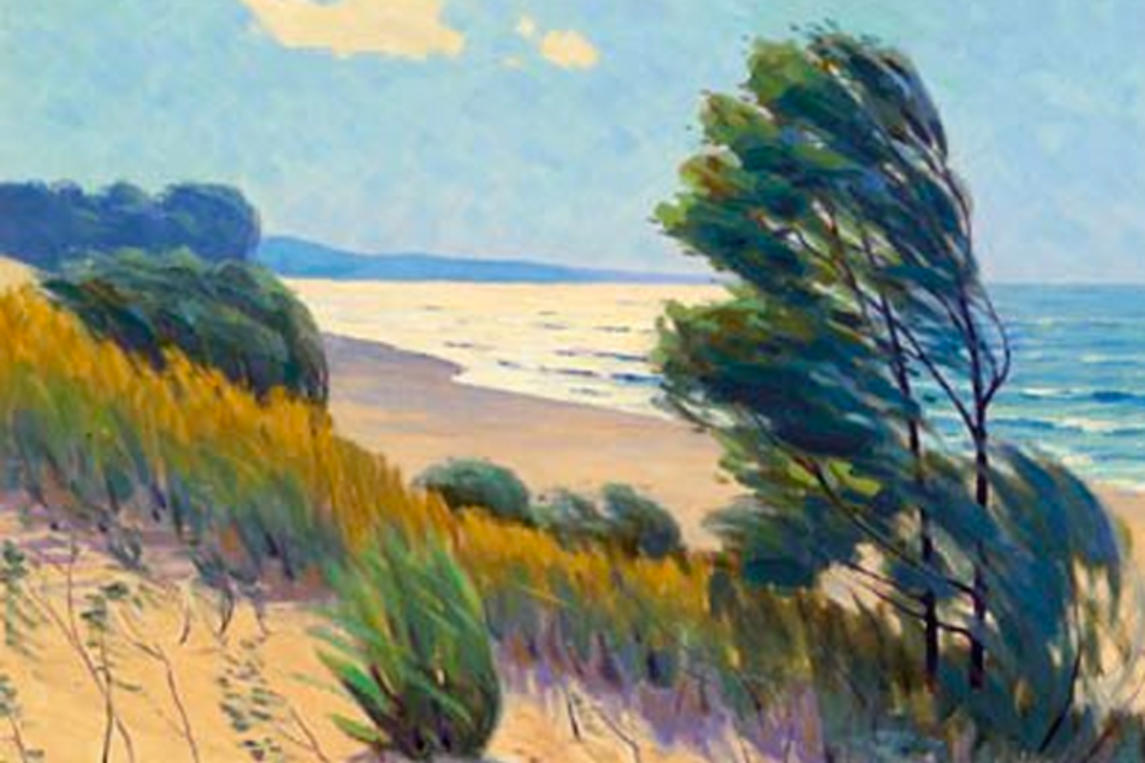 Frank Dudley
Indiana Dunes Artist
Class of 2008
Frank Dudley (1868-1957) was an American landscape painter who spent 40 years of his life painting the unique environment of the Indiana Dunes. This talented American artist of the 20th century brought awareness and change in a time of industrial growth on the shores of Lake Michigan.

Born in Wisconsin to deaf parents, Dudley was encouraged to pursue his passion for art at the Art Institute of Chicago in 1887. In 1902, he established himself as a landscape artist through his exhibits at the Art Institute. In 1911, Dudley began to regularly visit the Indiana Dunes. By 1921, he was living in his log cabin studio, painting the dunes full time. His cabin was located in what is now the Indiana Dunes State Park.

Before Indiana Dunes State Park was established, industrial development from Chicago was moving bit by bit along the shoreline of Lake Michigan. In support of saving the dunes, Director Stephen Mather of the National Park Service and the Prairie Club organized support for the dunes movement with an outdoor pageant in 1917. Dudley painted the tens of thousands of people gathered at the natural amphitheater in the dunes. In May 1918, the Art Institute showed 30 of his dunes paintings. He received the Art Institute's distinguished Logan Medal of Arts for his painting, "Duneland." Dudley continued showing his artwork of the dunes throughout the region, and before long, a big win came in 1923 when the Indiana State Park became a reality. Since his studio cottage was owned by the State of Indiana, Dudley gave the state one painting a year to keep his beloved cottage.

Currently, his artwork is displayed at the Indiana State Museum in Indianapolis, which owns more than 50 of Dudley's paintings, and at Valparaiso University's Brauer Museum, which owns 16 paintings. Brauer Museum published Dudley's paintings in "Indiana Dunes Revealed: The Art of Frank V. Dudley." His paintings can even be seen throughout the Gary School System and many people privately own his paintings.

Frank Dudley was nominated by Gregg Hertzlieb.