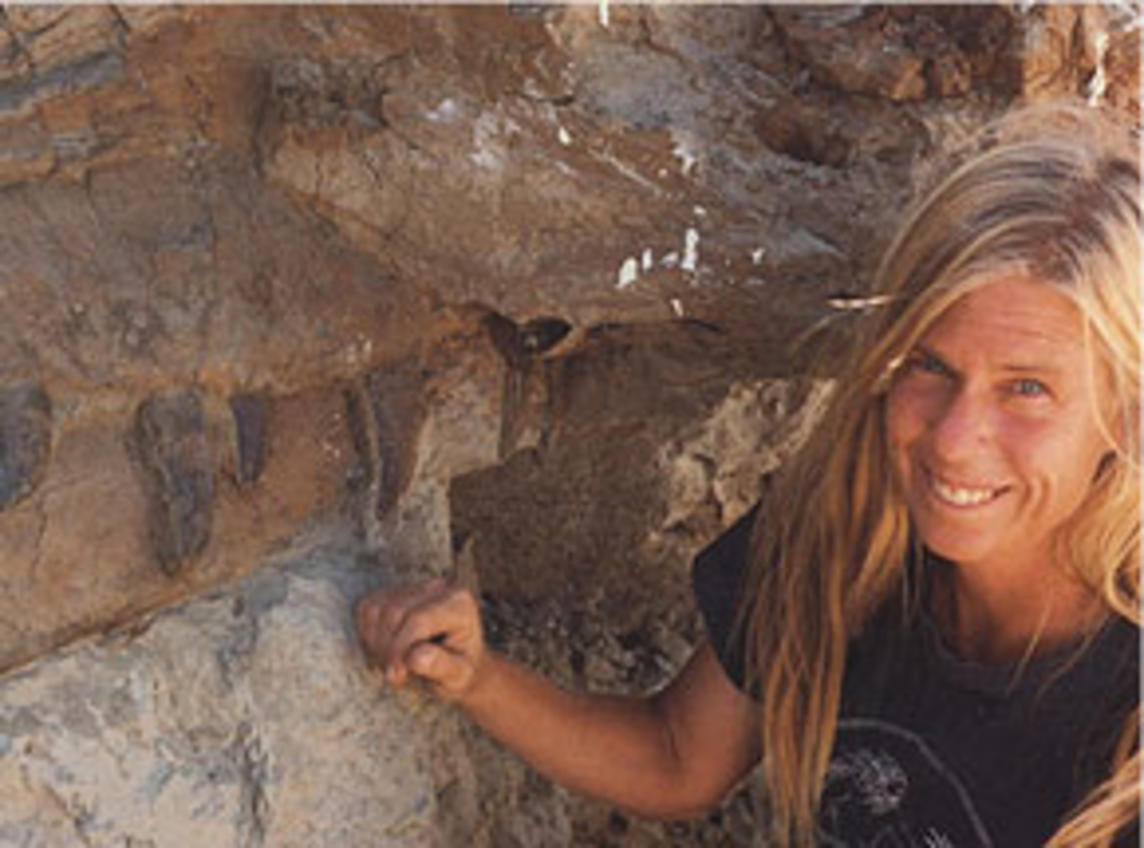 Sue Hendrickson
Discovered SUE, the T.rex
Class of 2012
Sue Hendrickson (1949 - ) was born in Chicago and grew up in Munster. She described herself as a "shy little girl." She said she enjoyed going to school and always wanted to know more. She read almost "anything I could get my hands on," usually finishing a book a day. Her earliest memory of finding "treasure" is when she was around 4 years old. "I loved wandering down the alley, poking through the wire bins that held ashes of burned garbage," she said. One day, she pulled out a small brass perfume bottle. "I've kept it to this day," said Hendrickson. She left Munster before completing high school and became a diver in the Dominican Republic in the mid-1970s. In 1985, she met Peter Larson, president of the Black Hills Institute, while in Peru on a whale dig. She soon began volunteering with Pete's group, digging for fossils in the U.S. and working for them for three summers in South Dakota.

The summer of 1990 began in much the same way as the previous summers had begun. Just two days before she was to leave the site, a tire on her truck went flat. When the four others in the group left to get it fixed, she stayed behind. Throughout that summer, she had searched most of the cliffs in the area. But there was one spot she had never gotten the chance to visit. "With the others gone, this was my chance. I set out across the valley, accompanied, as usual, by my dog Gypsy. I walked around the base of the cliff with my head down, watching the ground." About halfway along the path, she noticed a few pieces of what looked like bones. "Then I looked up. It's difficult to put into words how I felt at that moment. There about eight feet above my head, were three dinosaur backbones. I could see them clearly in the sunlight, as though waiting patiently for someone to find them." The walk back to her group's base that day remains a blur for Sue. It took her team five days to remove the 30 feet of rock that covered SUE's skeleton.

She said, "In less than three weeks SUE was free from her rocky tomb. Back at the Hills Institute, workers began the long process of cleaning bones. Because SUE was so extraordinary, many people wanted to claim her. For $8 million, the Field Museum earned the right to call SUE their own."

The first T.rex specimen was found in 1900. Since then, only seven skeletons that are more than half complete have been discovered. Of these, SUE is the largest, most complete and best-preserved T.rex ever found. It is on display at The Field Museum of Natural History in Chicago.

Sue Hendrickson was nominated by Nancy O'Shea, Public Relations Director, The Field Museum and John Davies, Assistant Director, Gerald I. Lamkin Innovation & Entrepreneurship Center, Ivy Tech Community College.