Please note: We recommend calling ahead to businesses and attractions you plan to visit for requirements and hours of operation.
George Ade Historic Home Tours
3623 E. State Road 16
Brook, IN 47922
Phone: (219) 275-2471
Website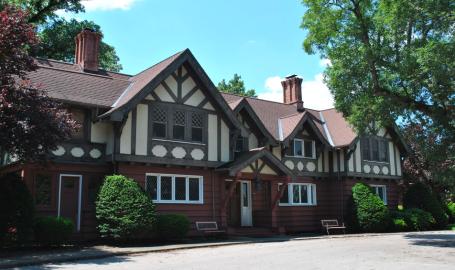 The George Ade Home is on the National Register of Historic Homes. The mansion completed by George Ade in 1904 is an Elizabethan manor house. The home is available for rental for group events and functions. It is cared for by Newton County and managed by the George Ade Foundation.
Ade purchased over 400 acres around the property East of Brook and thought the grove of oak trees near the Iroquois River was a "nice spot to put a little cottage." The little cottage, which he envisioned as his escape from the busy Chicago writing scene at the turn of the 20th century, manifested itself into a grand estate. The property was a working farm with a cow barn and several smaller outbuildings along with a caretakers cottage. But the property also served as a recreations paradise with a softball diamond, swimming pool and elaborate gardens. Ade even created a garden in the shape of the state of Indiana itself.
The home was decorated with the remnants of Ade's travels East and features rich dark woodwork and large windows.
The author enjoyed entertaining and hosted many parties for area residents. Conventions for his fraternity Sigma Chi and political receptions were also held at the estate. President William Howard Taft announced his campaign for the White House at rally at Hazelden in 1924. The playwright found any event, from the most mundane local signage change to the more grand national announcement, as a reason to organize a celebration.