Please note: We recommend calling ahead before visiting businesses or view their social media posts for the latest information. Each business is handling their operations differently and may require customers to make reservations, wear masks or follow other safety measures. Please respect their precautions as they work to keep you and their staff safe at this time. #INThisTogether
Merrillville Florist & Tea Room
7005 Madison Ave
Merrillville, IN 46410
Phone: (219) 769-3454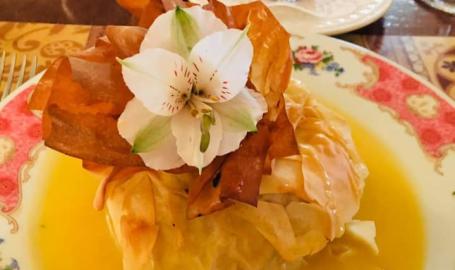 Offering: Carryout/Curbside Delivery
Hours: Mon-Fri 9am -5pm; Sat 9am - 3pm
Create your at-home Tea Room experience! Frozen Chateau Earl Greys (stuffed phyllo pastry purse for $10) and Scones ($1 each or $10 per dozen) come with everything you need to bake conveniently right at home.

The Tea Room re-opens Thursday, June 4th and they are accepting reservations for seating. Hours are Wednesday through Sunday from 11:00 am to 2:30 pm. Call (219) 769-3454.
General
Takeout: