Coaches Check-In (Mandatory)
Location: Championship field entry - located at the south end of complex
Time: 11AM-1PM
Note: Players do not need to check in. If you cannot make the CHECK IN you will need to have a representative check in for your team.  Please make sure this is a responsible person as any last minute important items may be covered at this time.

Team Contests / Skills Competition
Location: Fields: 4-5-7-8
Time: 11AM-2:30PM
Details: Teams will complete a series of contests for prizes. Contest registration will take place at the fields. Winners will be announced in the evening at the opening ceremonies.

Coaches Meeting (Mandatory)
Location: Championship field bleachers
Time: 1:30PM-2:30PM 
Details: Please limit to two representatives per team. If you cannot make this meeting you will need to have a team representative attend. Please make sure this is a responsible person as any last minute important items will be covered at this meeting.

Event Planner/Team Rep Meeting
Location: Field 10 bleachers
Time: 2PM-2:30PM 
Details: The South Shore CVA staff will host a meeting to further discuss the opening ceremonies: player parade drop off, parking and the route.  Answer questions and inform reps of local attractions and services. 

Find Area Information
Time: Throughout Opening Day
Details: Stop by the South Shore Tour Mobile to find out the details of the parade/opening ceremonies plus get information on restaurants, attractions and other fun things to do.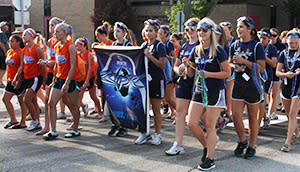 Parade/Opening Ceremonies
Staging: 5:15 PM - 5:50 PM at St. Bridget Church (school) east parking lot, 107 Main Street, Hobart, IN
Parade Start Time:  6 PM
Parking: After dropping off parade participants, guests will be directed to the parking site located on the east side of Old Ridge Road (across the street from Festival Park).  Guests not needing to drop off parade participants will be directed by parking personnel and signage to the same site.
Parade route:  Teams will line up on Center Street. The parade will proceed north on Center Street to Old Ridge Road.  As teams enter Festival Park, teams will follow the brick pathway, walk past the Bandshell, continue through Festival Park parking lot, and the gather in the grassy knoll facing the Bandshell.  Upon all teams gathering in Festival Park, the National Anthem will be performed, welcome greetings from Hobart Mayor Snedecor and South Shore CVA's CEO Spero Batistatos, skill competition announcements and then block party begins!
Theme: There is no set theme for the parade this year as we do not want to limit your creativity. Feel free to use your imagination! Teams are allowed to carry banners or signs for their team.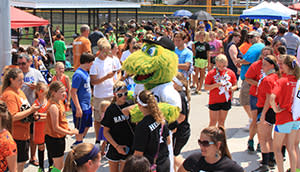 Block Party
Location: Festival Park, Hobart, IN
Parking: Guests will utilize the area east of Festival Park.  parking attendants will assist.  There is handicapped parking inside Festival Park.
Activities: Pin trading, inflatables, DJ, food vendors, bags, hydrobikes on Lake George, beer garden, NSA merchandise and fireworks at 8:45PM.
Layout of Festival Park