Pikk's Tavern
Restaurant Weeks Menu
Fine food and drink in a comfortable and casual atmosphere.

62 W. Lincolnway
Valparaiso, IN 46383
(219) 476-7455
www.pikkstavern.com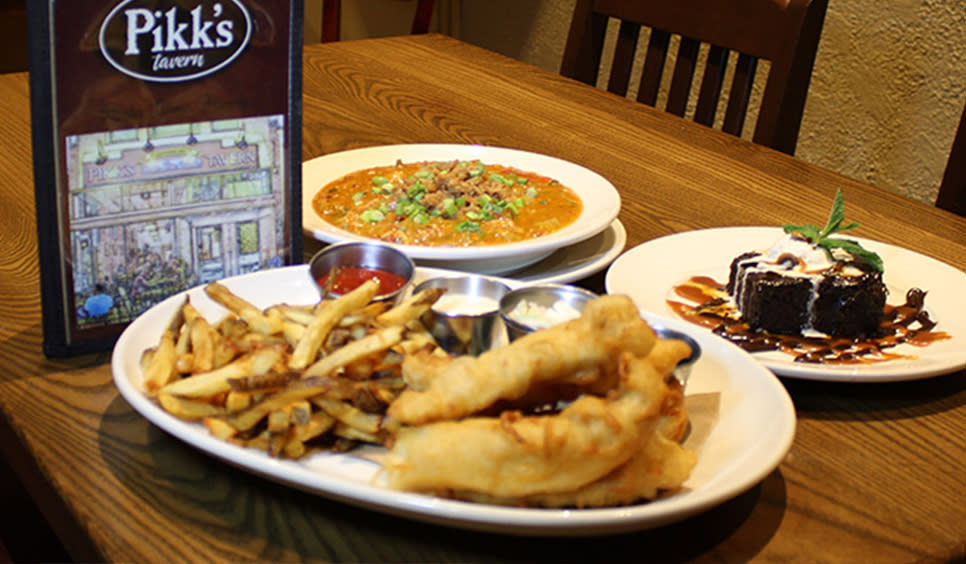 Dinner Menu
Availability: For dinner only.
Cost: $29 per person 
Beverage, tax and gratuity not included. All drinks and beverages will be an additional cost.

Appetizer (choose one):
- Shrimp Cocktail -
Gulf shrimp (3) with choice of sauce: traditional cocktail or Pikk's Tartar
- Scotch Eggs -
Hardboiled egg wrapped in Vinci's sausage, breadcrumbs, stone ground mustard sauce
- Mini Burgers -
Famous, blue cheese stuffed, or American cheese topped with special sauce, pickles
- Gumbo -
New Orleans style with andouille and chicken
- Caprese -
Fresh mozzarella layered with tomato, basil, Balsamic, basil-infused olive oil
Entrée (choose one):
- .5 Chicken -
Roasted, organic, free-range chicken, mashed potatoes, peppercorn cream sauce
- Fish and Chips -
Beer-battered fish with fries, cole slaw, malt vinegar and Pikk's Tartar sauce
- Shepherd's Pie -
Braised lamb and beef with carrots, peas and Guinness; topped with parmesan potatoes
- Rigatoni -
Vinci's famous tomato sauce baked with meatballs and fresh mozzarella cheese
- Chopped Salad with Chicken -
Chopped romaine, tomato, red onion, cucumbers, blue cheese, avocado, egg, bacon, green goddess dressing


Dessert (choose one to share):
- Stout Brownie -
Brownie made with Guinness, vanilla bean ice cream, caramel and chocolate sauces
- Crème Brulee -
Custard baked with berries, caramelized sugar
 
---

About Pikk's: Pikk's Tavern is a member of the daVinci family of restaurants. Located in Chicago, the daVinci Group of restaurants are committed to serving you authentic and delicious food in an upscale, comfortable setting. Our critically acclaimed experiences are perfect for family dinners or special occasions.