Abbiocco Italian Cuisine
Restaurant Weeks Menu
Chef driven progressive Italian menu with some classics.

600 Gateway Blvd.
Chesterton, IN
(219) 728-1442
www.AbbioccoEats.com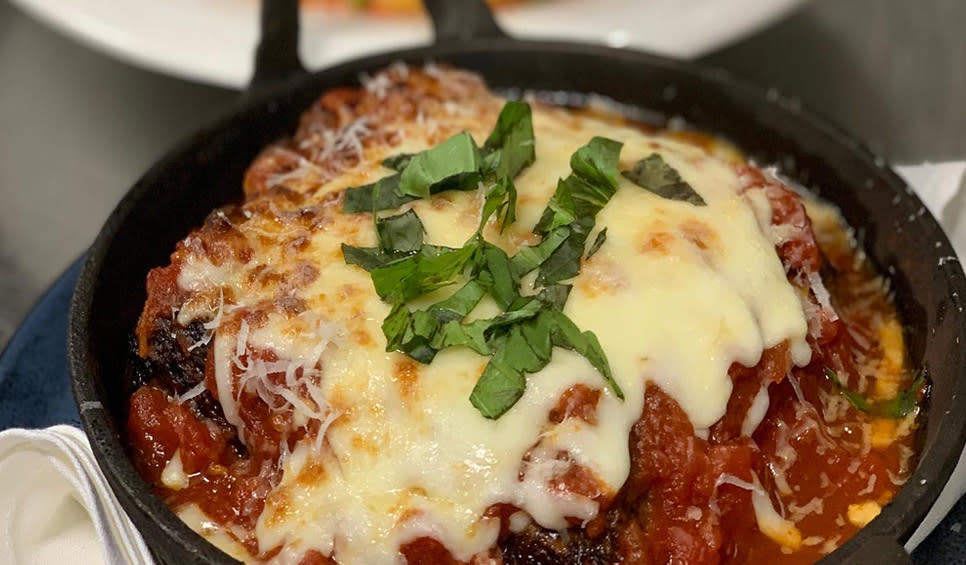 Dine In or Carryout Menu
Hours: 4:00 p.m. to 8:00 p.m.
Cost: $28 per person (plus tax and gratuity)

Soup or Salad (choose one):
- Tomato Bisque -
Oven-dried tomatoes, ricotta
- Caesar Salad -
Chopped romaine, roasted tomatoes, house-made croutons, Caesar dressing
- Mediterranean Salad -
Castelvetrano olives, Feta cheese, tomatoes, red onions, cucumbers, romaine, radicchio, oregano vinaigrette

Entrée (choose one):
- Lasagna -
Oven baked lasagna with short rib, roasted garlic cream, gruyere, fontina, mozzarella, pomodoro
- Pasta Al Forno -
House-made rigatoni, Bolognese meat sauce, ricotta, baked mozzarella
- Chicken Breast (Vesuvio, Marsala or Parmesan) -
Vesuvio: Garlic, white wine, rosemary, peas, roasted potatoes
Marsala: Sweet Marsala, wild mushrooms, green beans
Parmesan: Oven baked breaded chicken breast topped with pomodoro, mozzarella, served over spaghetti pasta
- True North Salmon -
Roasted red pepper romesco, grilled broccolini, citrus agrodolce​
- Skirt Steak Peperonata -
Sauteed peppers, onions, garlic and herbs served with garlic mashed potatoes and fried onions, topped with balsamic reduction

Dessert (choose one):
- Oatmeal Cream Pie Tiramisu -
Espresso, spiced oatmeal cookie, mascarpone, cocoa
- Zeppole -
Michigan cherry, whipped cream, bourbon caramel
- House-made Gelato/Sorbet -
Ask your server for available flavors
---
Features of Our Restaurant: Entertainment occasionally. 21+ Rooftop bar with separate comfort food menu.