Fenwick Farms Brewing Co.
Restaurant Weeks Menu
Our goal is to become farm-to-glass as much as possible.

219 W. Washington St.
Rensselaer, IN 47978
(219) 866-3773
No reservation required
fenwickfarmsbrewingcompany.com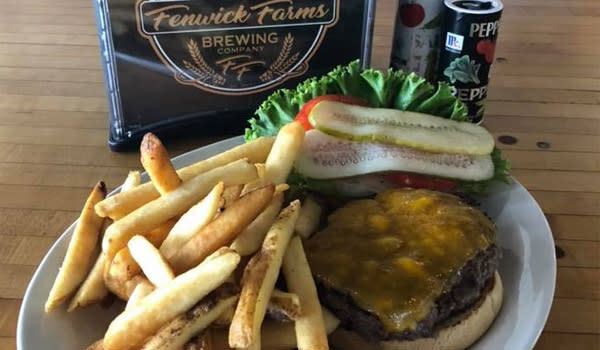 Hours: Monday through Thursday 11:00 a.m. to 9:00 p.m.; Friday & Saturday 11:00 a.m. to 11:00 p.m.; Sunday 11:00 a.m. to 8:00 p.m.
Beverages, tax and gratuity not included with Restaurant Week Menus. Full menu will also be available.
Lunch Menu
Cost: $22 for two people
Appetizer (choose one to share):
- Pretzel Bites -
Warm, soft chewy pretzels served with house-made spicy beer cheese dipping sauce
- House Pita Chips and Salsa -
Our house-made, warm pita chips and fresh salsa cruda

Entrée (choose one per person):
- Brewer's Cuban -
A crusty Filone hoagie slathered with bright yellow mustard hosts Culp Family Farms smoked pulled pork, whole muscle ham, a crunchy dill pickle and Fair Oaks Farms Smoked Sweet Swiss. Served with house-made chips
- Fried Shrimp -
A secret breading recipe creating a buttery, crispy Cajun fried shrimp. Served with house-made chips

Dessert (to share):
- Candied Bacon -
Sweet candy-glazed bacon with maple and brown sugar. Served with a sweetened cream cheese dip

---
Dinner Menu
Cost: $32 for two people
Appetizer (choose one to share):
- Hand-Battered Onion Rings -
We cut onions daily, then toss in beer batter using our own Iroquois River Cream Ale. Served with Boom-Boom Sauce
- Outpost Wings -
Ten bone-in wings come with your choice of sauce or naked. Sauces: House Secret, Buffalo, Mango Habanero, BBQ Molasses, Parmesan Garlic

Entrée (choose one per person):
- Grilled Cheese Trifecta -
Fair Oaks Farms Cheddar, Butterkase and Muenster cheeses melted perfectly between two pieces of thick hi-crown white bread. Served with house-made chips
- The County Seat -
Our house Sloppy Joe recipe is topped with jalapenos and piled high with fries on a brioche bun before covered entirely in queso blanco
- Fenwick's Finest -
Hand-pattied traditional burger served with lettuce, tomato, onion and pickle. Your choice of Fair Oaks Farms cheese. Served with house-made chips

Dessert (to share):
- Sweet Potato Sundae -
Crunchy sweet potato fries tossed in brown sugar caramel sauce topped with Fair Oaks Farms vanilla ice cream and homemade whipped cream

​Fenwick Farms feature: Live Entertainment on Saturday Evenings