Islamorada Fish Company
Restaurant Weeks Menu
World-famous restaurant located inside Bass Pro Shops in Portage.

6425 Daniel Burnham Dr.
Portage, IN 46368
(219) 787-1800
www.fishcompany.com
Parties of 8 or more - to ensure immediate seating, please call and make a reservation.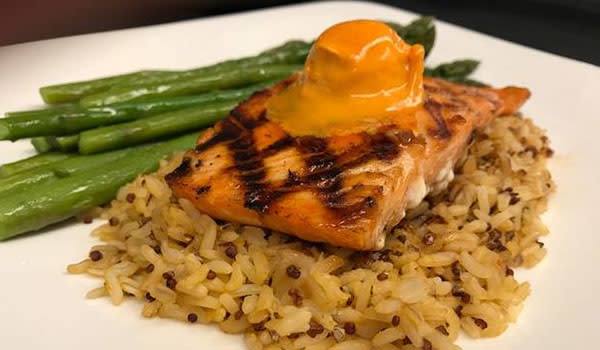 Menu
Hours available: Sunday 11:00 a.m. to 7:00 p.m., Monday-Thursday 11:00 a.m. to 9:00 p.m., Friday and Saturday 11:00 a.m. to 10:00 p.m.
Cost: $35 for two people
Appetizer (choose one to share):
- Garlic Mussels -
Blue mussels, white wine garlic butter, hint of red pepper, and garlic toast
- Smoke Trout Dip -
Served chilled with crisp cucumbers and crackers
- Soft Bavarian Pretzels -
With beer cheese

Entrée (choose one per person):
- Islamoranda Portofino -
Blackened tilapia, grilled shrimp, lobster cream sauce, fresh vegetable and quinoa rice
- Boar Burger -
Lean & flavorful, smoked bacon, Swiss cheese, pickled jalapenos, signature sauce, lettuce and tomato
- Shrimp Alfredo: -
Cavatappi pasta, lobster cream, house-roasted tomatoes, green onion, parmesan, blackened spiced shrimp and garlic bread
-Tropical Salad with Chicken-
Fresh Greens, red pepper, mango, cucumber, toasted coconut and cashews, served with coconut poppyseed dressing​

Dessert (choose one to share):
- Key Lime Pie -
Creamy key lime filling simultaneously tart and sweet, cradled in our signature cashew and graham cracker crust and crowned with fresh whipped cream
- S'more's Cookie Skillet -
Our all-butter cookies loaded with sustainable chocolates-melted, morsel and cocoa. Blended with sea salt and browned butter, scattered with chocolate chunks, marshmallows and graham crackers

Islamorada Fish Company​ features: 13,000 gallon saltwater aquarium with several different species of fish for your viewing pleasure. Patio seating is available.