Kitaro Surf & Turf and Sushi
Restaurant Weeks Menu
Asian fusion creations, hand-cut steaks, lobster, sushi and more.

9625 Calumet Ave., Suite A
Munster, IN 46321
(219) 301-5090
kitarosurfandturf.com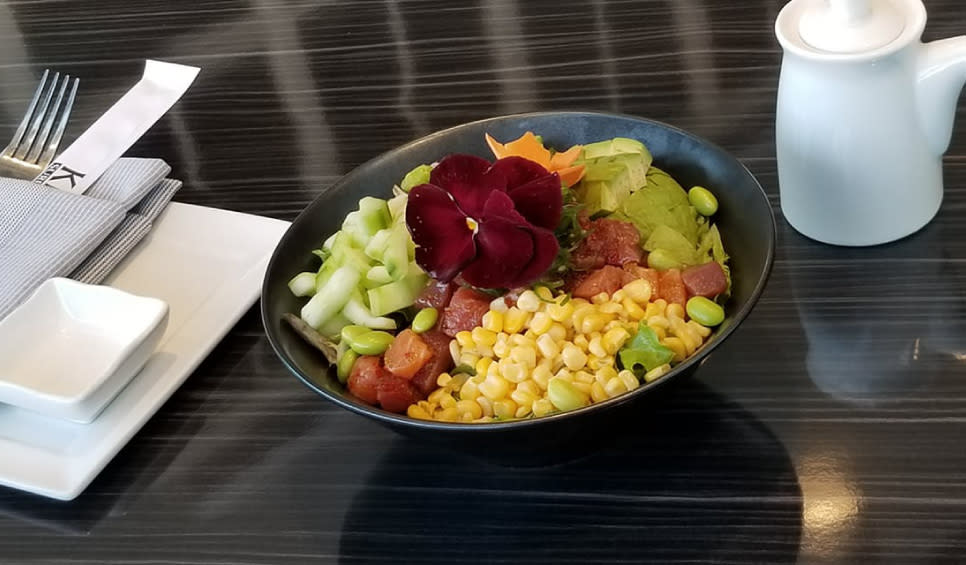 Lunch Menu
Cost: $35 for two people

Hours available: 11:00 a.m. to 3:00 p.m.
Soup for Salad (choose one per person):
- Clear Soup -
Chicken broth with noodles, shiitake mushroom, fried onion and green onion
- Miso Soup -
Soy paste soup with seaweed, shiitake mushroom, and green onion
- House Green -
Organic spring greens, lettuce, carrots, white and purple cabbage and cherry tomato, served with home-made ginger dressing
Entrée (choose one per person):
- Grilled Salmon -
Sushi graded salmon filet grilled with garlic butter, served with sautéed vegetable and house fried rice
- Lunch Poke Bowl (raw) -
Tuna, salmon, avocado, cucumber, spring mix, seaweed salad, corn, radish, rice, with poke sauce
- Mini Two -
4 pieces of Kitaro Monster: shrimp tempura, snow crab, avocado, with spicy mayo and unagi sauce
4 pieces of Firecracker: spicy tuna, cream cheese, fresh jalapeno, delicately fried, spicy mayo, sweet soy, hint of siracha, topped with tempura crunch


Dessert (choose one to share):
- Crème Brûlée -
Gluten free. Homemade creamy custard topped with caramelized sugar
- Mochi Ice Cream -
Gluten free. Sample 3 pieces of traditional Japanese Mochi ice cream green tea, strawberry and mango

---
Dinner Menu
Cost: $58 for two people
Hours available: 3:00 p.m. to 9:00 p.m.
Tapas (choose one to share):
- Brussels Sprouts -
Flash-fried brussels sprouts tossed in sweet lemon chili sauce
- Crunchy Snowballs -
Snow crab, shrimp stuffed in 3 crunchy rice balls, topped with red tobiko, and drizzled with sweet soy and spicy mayo
Entrée (choose one per person):
- Korean Short Ribs -
1.5-pound bone in beef short ribs, braised with Korean BBQ sauce, served with sautéed vegetables and mash potato
- Dinner Poke Bowl (raw) -
Fresh tuna, salmon, avocado, cucumber, spring mix, seaweed salad, corn, radish, white rice, with poke sauce
- Mini Three (partially raw) -
4 pieces of Kitaro Monster: shrimp tempura, snow crab, avocado, with spicy mayo and unagi sauce
4 pieces of Lemon Salmon: Salmon, lemon, snow crab and avocado, ponzu sauce, orange tobiko
3 pieces of Magic Tuna (raw): Spicy tuna, topped with thinly sliced jalapeño, black tobiko, served on crispy sushi rice, drizzled with wasabi mayo and sweet soy
Dessert (choose one to share):
- Crème Brûlée -
Gluten free. Homemade creamy custard topped with caramelized sugar
- Mochi Ice Cream -
Gluten free. Sample 3 pieces of traditional Japanese Mochi ice cream green tea, strawberry and mango