New Oberpfalz Brewing
Restaurant Weeks Menu
A small brewery with a big love for great beer.

121 E. Main St.
Griffith, IN 46319
(219) 513-9341
www.newoberpfalz.com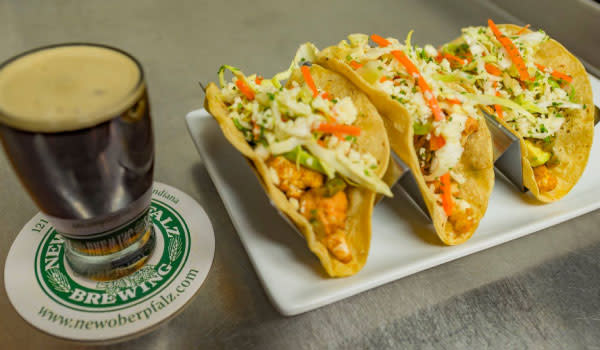 Menu
Hours available: Closed Monday, Tuesday-Thursday 3:00 p.m. to 10:00 p.m., Friday and Saturday 11:00 a.m. to 10:00 p.m., Sunday 11:00 a.m. to 7:00 p.m.
Cost: $35 for two people
Beverages, tax and gratuity not included.
Starters (choose one per person or share a pretzel):
- Helles Lager Baked French Onion Soup -
- Broccoli Cheese and Bacon Soup -
- Small Salad -
Lettuce blend, red onions, dried cranberries, bleu cheese crumbles and choice of dressing (ranch, blue cheese, house EVOO herb vinaigrette)
- Bavarian Pretzel (to share only) -
Mustard and beer cheese sauce​

Entrée (choose one per person):
- Vegetarian Cauliflower Tacos -
Soft corn, cilantro lime cabbage slaw, avocado, queso fresco, sweet onion, fire roasted salsa
- Organic Chicken Tacos -
Soft corn, salsa, cilantro, butterhead, queso fresco, sour cream, avocado, tomatoes​
- Black Forest Turkey Sandwich -
Toasted focaccia, smoked bacon, tomato, butterhead, provolone, stoneground mayo​
- Oberpfälzer Burger -
Grass-fed beef, American cheese, mayo, butterhead, tomato, red onion, house pickles​

Dessert (to share):
- Bavarian Pretzel Bread Pudding -
Russian Imperial Stout caramel, vanilla ice cream, shaved chocolate
New Oberpfalz features: Outdoor, family and communal seating. Delicious, large Bavarian pretzels. Selection of hand-crafted beers from the brewery, guest drafts, wine and hard cider along with soft drinks are served.