Teibel's Restaurant Weeks Menu
Relax and enjoy the finest meal and service, at U.S. 41 and 30 in Schererville.

1775 U.S. Highway 41
Schererville, IN 46375
(219) 865-2000
www.teibels.com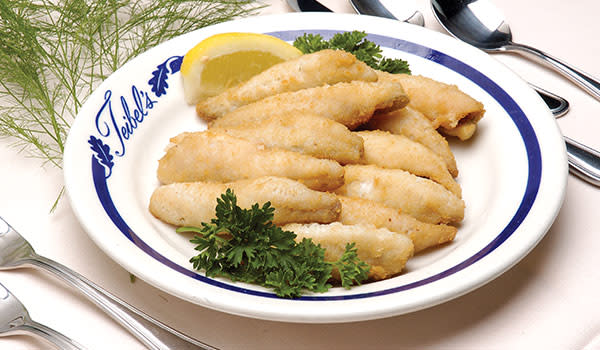 Menu
Hours available: Lunch portion 11:00 a.m. to 4:00 p.m.; Dinner portion 11:00 a.m. to 9:00 p.m.

Cost: Lunch $11.95 per person; Dinner $23.95 per person
Not applicable with any other discounts, coupons or Holiday Dollars.

Entrée:
- Teibel's Famous Lake Perch -
Teibel's boned and buttered Canadian Yellow Lake Perch (approx. 5 pieces for lunch portion, 10 pieces for dinner portion).
Served with our homemade tartar sauce, melted butter and lemon. Traditionally lightly fried, however we can prepare our fish broiled, sautéed or gluten-free.

Sides (choose one):
- Rice Pilaf -
- French Fries -
- Grilled Vegetables -
- Mashed Potatoes -
Dessert:
- Valpo Velvet Ice Cream -
Teibel's features: Come see our renovated Coffee Shop!