Teibel's Restaurant Weeks Menu
Relax and enjoy the finest meal and service, at U.S. 41 and 30 in Schererville.

1775 U.S. Highway 41
Schererville, IN 46375
(219) 865-2000
www.teibels.com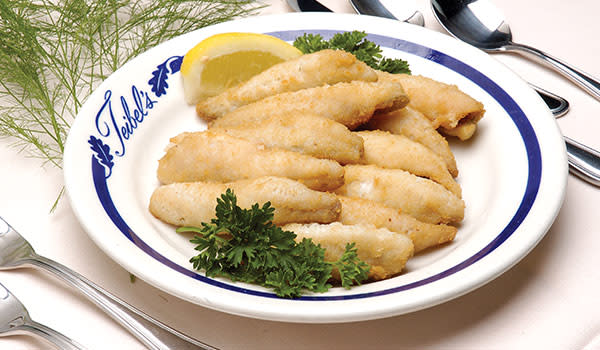 Menu
Hours available: 11:00 a.m. to 5:00 p.m.
Cost: $19.95 per person
Beverages, tax and gratuity not included. Not valid with any other discounts, Holiday Dollars or coupons.
Early Diner's Special Menu

Entrée:
- Teibel's Famous Lake Perch -
A half-pound of Teibel's boned and buttered Canadian Yellow Lake Perch (approx. 8 pieces). Served with our homemade tartar sauce, melted butter and lemon. Includes endless cole slaw and dinner rolls.

Traditionally lightly fried, however we can prepare our fish broiled, sautéed or gluten free.
Add additional pieces of perch for 1.50 each.
Sides (choose one):
- Rice Pilaf -
- French Fries -
- Grilled Vegetables -
- Mashed Potatoes -
Dessert:
- Valpo Velvet Ice Cream -
Teibel's features: Teibel's has three areas to eat daily - in our coffee shop, bar or main dining room.