Peggy Parkinson
Executive Assistant
219-989-7770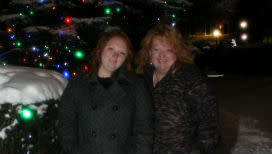 Northwest Indiana has been a lifetime home for me.  Growing up in Schererville, it always made me wonder what exactly the "Crossroads of the Nation" really meant. The intersection of Route 30 and Route 41 holds a lot of fond memories such as the Teibel's Restaurant and Christmas lights, the Sauzers' KiddieLand Park (yes, that was a long time ago) and now the growth that has taken place along that same land. The "Crossroads" is just as it says…sooner or later, everything and everyone comes through there and the lucky ones get to stick around!
During that growth spurt of both the land and my teenage years, I landed my first job at Strack and Van Til. This was just the beginning of a life in customer service, various projects, working with kids, management, volunteering and overall just helping people.  These ventures seemed to have all been leading up to the best adventure yet here at South Shore Convention and Visitors Authority.  I suppose that may sound cliché but I assure you…it is true!
I am fortunate to now hold the title of Executive Assistant to the President/CEO of South Shore CVA, Mr. Speros A. Batistatos. This position covers a wide array of duties, which is a welcome challenge. 
Now settled in Crown Point with a Valparaiso University graduate and a student at Crown Point High School, we keep very busy all around the region!  Both kids are active BMX racers, which keeps us on the move. We also like visiting the local hotspots such as Fair Oaks Farms, County Line Orchard, Albanese Candy Factory, Deep River Park and camping!  When the sun is shining, I love to hang out at one of the local sidewalk eateries and catch up with friends over a tall frosty drink and watch all the action on the Crown Point square.  So if you see me out and about – come say "Hi" and sit a spell!