Indiana Dunes Beaches
The Indiana Dunes National Park and Indiana Dunes State Park offer 15 miles of beautiful sandy beaches. Whether you want to frolic in the waves, sculpt a sandcastle, admire the wildlife or simply soak up the sun, the beaches of the Indiana Dunes are sure to please.
Explore the Indiana Dunes' beaches any time of year! In the summer, the sand is warm, the breeze is cool and Lake Michigan is sparkling and inviting. During the winter, the stark beauty of the lake and the shelf ice that forms on it will take your breath away. Spring breathes new life into the shoreline and the dunes, and in the fall, the stunning array of colors will astound you.
Safety note - Do not swim when Rip Current warnings are posted or in large crashing waves, which can cause rip currents. These strong currents rushing out into Lake Michigan can carry even the strongest swimmer with them. If you get caught in a rip current, do not try to swim against it. Instead, swim parallel to the shoreline until you are out of the current. In Lake Michigan, even with calm water, non-swimmers and children should always be very closely monitored by an adult.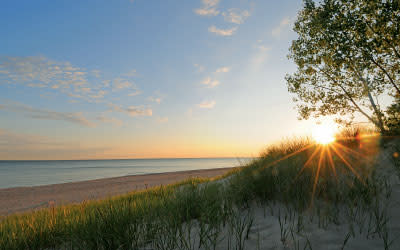 Photo credit: Indiana DNR
Indiana Dunes State Park Beaches
The Indiana Dunes State Park provides three miles of enticing beaches.
Open from 7:00 a.m. to 11:00 p.m.
The park offers a swimming beach manned by lifeguards in the summer.
A pavilion on the beach provides shelter, bathhouses and a concession stand.
The rest of the beach area is available for wildlife watching, beachcombing, kite flying or strolling with your pets.
A variety of hiking trails are available, several of which traverse Mount Tom and offer a spectacular view of Lake Michigan.
A nominal fee is charged to enter the park, which offers plenty of parking.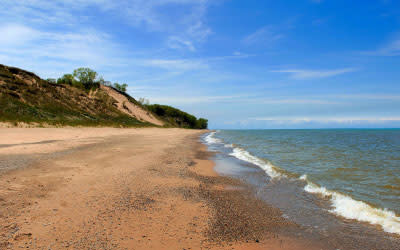 Photo credit: Indiana Dunes National Park
Indiana Dunes National Park Beaches
The Indiana Dunes National Park maintains an array of magnificent beaches, which are open year-round from 7:00 a.m. to 30 minutes past sunset, unless otherwise noted. Bicyclists and hikers may enter at 6:00 a.m. Parking and bathroom facilities are located near all of the beaches. Lifeguards are only available at West Beach.
South Shore Beaches on Instagram
Tag your adventure #alongthesouthshore