Class of 2020


Photo by The Times
Donald S. Powers
His Impact Reaches Beyond Our Region!
Donald S. Powers (1920-2015) was a soft-spoken gentleman who often characterized himself as "just a country boy". Originally from Harrodsburg, Kentucky, he maintained something of a Bluegrass State drawl throughout his life. However, that calm and even tone had a compelling effect on his listeners.
Don's "make a world of difference" was broad. As a night fighter pilot off carriers during World War II, he did his share to "making the world safe for democracy." He joined the Navy shortly after Pearl Harbor and was discharged in 1946, but recalled to active service in 1950 and served as a jet fighter pilot in Korea.
His beginnings in civilian life were modest. Upon graduation from Purdue University, he was employed as an assistant agent in the Lake County Agricultural Extension Office. He also served as Secretary of the Lake County Fair Board. Following his return from the service, Don ultimately entered the insurance and real estate business, opening the Don Powers Agency in Munster, Indiana.
Don's "can do" contributions are well known. He is recognized as the chief developer of Munster. He developed Briar Ridge County Club, and contributed financially to creating significant initiatives such as the Center for Visual and Performing Arts and Community Veterans Memorial in Munster.
However, it was in healthcare that Don perhaps made his most significant influence. He helped create the Community Foundation of Northwest Indiana, serving as its president and chief executive officer. The Foundation created and now supports and oversees the work of the Community Healthcare Systems, which consists of three hospitals - Community Hospital in Munster, St. Catherine Hospital in East Chicago and St. Mary Medical Center in Hobart, along with clinics and urgent care centers. Community's success fueled the "multi-million dollar corridor" that encompasses many of the hospital's ventures.
Don also impacted Purdue University Northwest and the financial sectors, including serving on the boards of Mercantile Bank and NIPSCO. Not as widely known is Don's service for 15 years on the statewide Board of Trustees of Purdue University. From 1981 to 1989, he served as president of the board. The largest building program in the history of the campus was passed during his tenure. This included significant investments in the civil and electrical and computer fields of engineering that helped educate the next generation of engineers and innovators.
Today, Purdue's civil engineering program - involved in world-shaping feats such as the Golden Gate Bridge and the Panama Canal - is renowned for having top 10 undergraduate and graduate programs in the country. The School of Electrical and Computer Engineering boasts Purdue's largest enrollment.
Don may have seen himself as "just a country boy", but his impact reaches beyond our region and continues to resonate today.
Donald S. Powers was nominated by Monsignor Joseph Semancik, PhD and John Davies.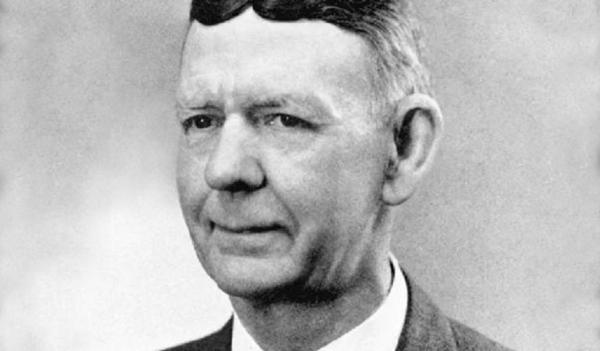 Alvah Curtis Roebuck
Hammond Watchmaker, Co-Founder Sears Roebuck and Co.
Alvah Curtis Roebuck (1864-1948), who lived and worked as a watchmaker for 15 years as a teenager and young adult in Hammond, Indiana, responded to a newspaper ad in the Chicago Daily News that Richard Sears put out shortly after opening a shop on Dearborn Avenue in Chicago seeking someone to fix watches. Roebuck ended up co-founding Sears, one of the most transformative retailers in world history, the largest retail company in America for most of the 20th century and the company that built Sears Tower (now the Willis Tower), said Nominator Joseph S. Pete. Educators and business observers agree that its impact upon the American landscape will be studied for generations.
Self-taught as a watchmaker who went on to become executive of one of the most iconic American corporations to ever sell a grill, lawnmower or pair of slacks, Roebuck had a major impact on economic development, according to IU Northwest's Assistant Professor of Economics, Micah Pollak. "A century before the internet and online ordering existed, mail order companies dominated the retail landscape in the United States and were responsible for bringing products to Americans everywhere," he said. "This golden age of mail order was brought about in part by the rise of Sears Roebuck and Co., helmed by Alvah Curtis Roebuck who began his career in Hammond."
Sears and Roebuck partnered up while they were in their 20s and launched a catalog of watches and jewelry in 1888 that would eventually balloon to 532 pages and spawn a mail-order empire that shipped everything from furniture and snow blowers to laxatives and motor buggies, bringing the world to a still largely rural America.
Ironically, the Lafayette native "decamped" to Chicago because of romantic disappointment. According to the Entrepreneur Hall of Fame, which bestowed national recognition on Roebuck, he "wanted advancement, and like many Hoosiers, saw Chicago as the city of new opportunities."
Originally, the company was named the A.C. Roebuck Co. after Roebuck. Renamed Sears Roebuck and Company in 1895, the company Roebuck and Sears started to grow because of low prices, a guarantee of satisfaction and a catalog written in direct language that was "easy to understand". Stressed out by the demands of the business and wanting a quieter life, Roebuck sold his stock for just $25,000 in 1895. About a century later, the company's annual revenue would surpass $59 billion a year. Roebuck returned to the company twice. He ended up compiling a history of the company that would grow into America's largest retailer and traveled around the country to stores. Sears was the largest retailer until it was eclipsed by Walmart in 1989.
In his lesser-known business ventures, Roebuck also invented a typewriter and distributed motion picture machines.
Alvah Curtis Roebuck was nominated by Joseph S. Pete.
Sponsored by