Class of 2010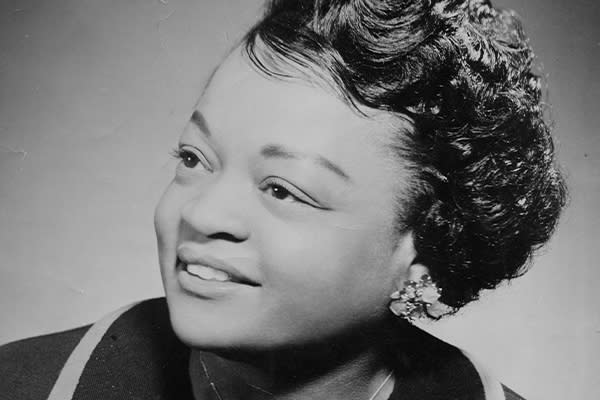 Vivian Carter
In 1953, Vivian Carter (1921-1989), along with husband James Bracken, founded Vee-Jay Records in Gary, Ind., the first major African-American record label in the United States. With courage and vision, this graduate of Gary's Roosevelt High School founded her own company to seek out and develop new talent among the minority populations of Northwest Indiana and beyond.
She also broke through racial and gender barriers before the national civil rights movement took hold in the late 1950s. Thanks to Vivian, many black artists earned their chance before a microphone and produced revolutionary doo-wop and R&B popular music recordings for local, national and international audiences. The Vee-Jay catalog included artists such as the Spaniels, Dee Clark, Jerry Butler, John Lee Hooker and Gene Chandler. Vee-Jay issued the first hit record by the Spaniels, "Baby, It's You," in 1953. At their second recording session that year, the Spaniels recorded "Goodnight, Sweetheart, Goodnight," charting at number five on the R&B charts in 1954 and later as a Top 10 hit by the McGuire Sisters.
She didn't stop there, however, for Vee-Jay Records sought out white artists as well, such as the Four Seasons. Vee-Jay also introduced The Beatles to America (with the release of "Please, Please Me" on the Vee-Jay label in 1963 followed by more singles and the first Beatles album in the U.S. titled "Introducing the Beatles") and also blazed the trail for Motown Records' huge impact and success.
Vivian Carter was nominated by Stephen G. McShane, Archivist/Curator, Calumet Regional Archives, Indiana University Northwest.
Dr. John Maniotes, Ph.D., M.S., B.S.
Dr. John Maniotes (1935 - 2009), professor emeritus of Purdue University Calumet, is a "computer pioneer" who developed one of the earliest computer technology curricula in the nation. He was the founder and first department head of what is now the computer information technology and graphics department at Purdue Calumet. As a result, Purdue Calumet became the first university in the Calumet region to offer computers as a field of study.
Joining the faculty in 1963, Dr. Maniotes taught for 38 years. His experience includes more than 45 years of information systems and a variety of computer languages. As an engineer at Douglas Aircraft, he worked on the Thor missile, the first operational intermediate range ballistic missile in the U.S., which was utilized not only in defense, but in space exploration.
Born and raised in East Chicago, Dr. Maniotes graduated in 1953 from East Chicago Washington High School and earned his Ph.D., M.S. and B.S. degrees in engineering from Purdue University. He co-authored 15 textbooks, two laboratory manuals and more than 30 journal articles on computer-related subjects. He also developed the 1972 Slide Pule Patent prior to the introduction of the pocket calculator. In April 2001, Dr. Maniotes retired from Purdue Calumet and was awarded the Alumni Association's Distinguished Service Award later that year. His legacy includes the Sam and John Maniotes Memorial Scholarship which has helped more than 120 merit-based computer students based on financial need.
Dr. John Maniotes was nominated by Dionne A. Maniotes Hulsey, Sam A. Maniotes and Andrew J. Maniotes.
Sponsored by