Class of 2015

The 20th Indiana Volunteer Infantry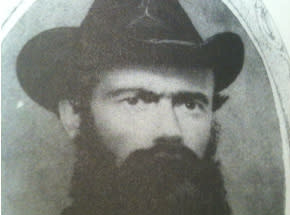 Col. John Wheeler
Crown Point, Ind. 
Commanded the 20th Indiana at the Battle of Gettysburg.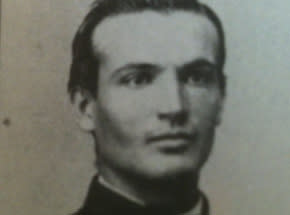 Lt. John Luther
Crown Point, Ind. 
Became a self-made man of wealth after the war.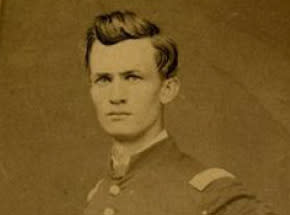 Maj. Erasmus Gilbreath
Valparaiso, Ind. 
Chronicled the service of the 20th Indiana in journal volumes.
From President Abraham Lincoln's call for able-bodied Union Army volunteers in 1861 to Confederate Gen. Robert E. Lee's surrender at Appomattox Court House, Va., in 1865, fighting Hoosiers of the 20th Indiana Volunteer Infantry were present and accounted for at the forefront of Civil War history.
More than 300 Northwest Indiana volunteers of the regiment's companies B, E and I stood on the front lines of nearly every major battle of the Civil War's eastern theater. Men of those three companies hailed from Lake, La Porte and Porter Counties, defining the word bravery while sustaining heavy casualties at the Civil War Battles of Gettysburg, Fredericksburg, Petersburg, Cold Harbor, Spotsylvania, the Wilderness, Second Bull Run and Appomattox Court House, among other engagements. These men volunteered to fight to save the Union and ultimately end slavery.
The regiment lost nearly a third of its original 1,000 volunteers to disease or enemy bullets during the war. Hundreds lost arms and legs in the fighting, scars they would carry with them for the rest of their lives. Crown Point's Col. John Wheeler fell to a Confederate sharpshooter's bullet while Wheeler commanded the 20th Indiana at the Battle of Gettysburg, still ranked as the bloodiest battle of America's bloodiest war. Valparaiso Maj. Erasmus Gilbreath chronicled the service of the 20th Indiana in painstaking detail. Gilbreath's journal volumes, published in book form in 2015 by the Pritzker Military Library & Museum in Chicago, include eyewitness accounts of the first battle of iron-clad warships in world history during the Battle of the Monitor and the Merrimack in Hampton Roads, VA. They also include the gut-wrenching loss men experienced as they watched their cousins, sons, brothers and neighbors die from the scourge of camp diseases, infection and enemy gunfire.
A literal son of Merrillville ranked among the casualties. Pvt. James Merrill, son of Merrillville namesake Dudley Merrill, survived many of the war's bloodiest battles only to die in 1864 during the Battle of the Wilderness in Virginia while serving in Company B.
Region men of the fighting 20th Indiana continued to leave their mark on Northwest Indiana after the war. Crown Point Lt. John Luther, who tearfully removed the body of his friend Col. Wheeler from the Gettysburg Wheatfield in 1863, returned from the war and became a self-made man of wealth. Before his death, he served as vice president of the First National Bank of Crown Point.
Region men of the 20th Indiana once walked on our streets in Crown Point, Lowell, Merrillville, Valparaiso and La Porte. Today, they're well represented in the pioneer cemeteries of Northwest Indiana, gone by not forgotten.
The 20th Indiana Volunteer Infantry was nominated by Marc Chase, The Times Media Company
Gary Roosevelt and Crispus Attucks Basketball Teams of 1955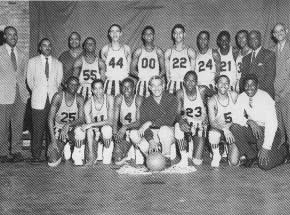 1955 Gary Roosevelt Basketball Team
Row 1: Richard Barnett, Wilson Eison, Randolph Williams, Coach John D. Smith, Charles Ford, Arthester McCruiston, Manager Eugene Harris
Row 2: Coach Louis "Bo" Mallard, Coach James Dowdell, Coach Leanoard B. Douglas, James Eubanks, Van Ligon, Maurice Everett, Jerome Morgan, Jerome Ward, John Ford, James Guydon, Principal H. Theo. Tatum, Asst. Principal Warren M. Anderson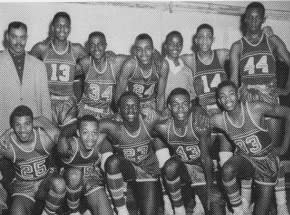 1955 Indianapolis Crispus Attucks Basketball Team
Row 1: J. Brown, Patton, W. Brown, Robertson, Milton
Row 2: Coach Ray Crowe, Burnley, Hampton, Merriweather, Manager Douglas, Scott, Mitchell
In 1955, the United States of America was a far different place than the country we know today. Few American households had televisions; the interstate highway system was just beginning construction; downtown shopping areas were thriving; and Jim Crow was flourishing in cities like Gary and Indianapolis. African Americans were told where and where not they could enjoy dining out. They had separate areas in movie theaters (or even entirely separate theaters). They were confined to certain neighborhoods of their cities. They were subjected to racial slurs and humiliation.
It was in December of that year that Rosa Parks refused to vacate her seat on a Montgomery bus, launching one of the first high-profile protests of the Civil Rights Movement.
Earlier that year, however, two groups of African-American high school athletes came together, for the first time in American history, to compete in a state championship basketball game. Nothing like it had ever been seen before. The athletic abilities and talents displayed on March 19, 1955, in the Butler Fieldhouse in Indianapolis truly marked a milestone in basketball history and changed basketball forever. On the surface, one might be tempted to limit the impact of this game to its record-setting athletic statistics. Certainly, Roosevelt's Dick Barnett, with his fade-away jump shot, and Attucks' Oscar Robertson's talent on both sides of the court were awe-inspiring performances; and, of course, this meeting of the Panthers and Tigers represented one of the most significant moments in a state so passionate for basketball.
Yet, the real impact of that night resonated well beyond the basketball court, for it served as one of the earliest events in the nation to chip away at Jim Crow and further equality and justice for all Americans.
Although the Indianapolis Crispus Attucks High School Tigers soundly defeated the Gary Roosevelt High School Panthers 97-74, the score does not reflect that players on both teams gave it their all, as champions do. They, and most others who were there that night, didn't realize their efforts would impact the larger American society - but indeed it would. Coaches of all-white teams awakened to the fact that black athletes could, and did, help their teams become better. League officials and sports writers started to accept the fact that African-American players and teams could compete equally with, and even surpass, white players and teams. In short, athletic abilities did not depend on skin color.
That realization went far beyond sports, perhaps unconsciously at the time and for some time afterward. In essence, the 1955 championship teams demonstrated that blacks and whites could, and should, be treated and regarded as equals in every phase of American Life.
The teams were nominated by Charles M. Hughes of the Gary Chamber of Commerce, assisted by Stephen G. McShane of the Calumet Regional Archives, IUN.

Lewis "Lew" Wallace
Author of "Ben-Hur: A Tale of Christ"

Lewis "Lew" Wallace (April 10, 1827 - February 15, 1905) was an American lawyer, Union general in the Civil War, governor of the New Mexico Territory, politician, diplomat, and author from Indiana. Among his novels and biographies, Wallace is best known for his historical adventure story, "Ben-Hur: A Tale of Christ" (1880), a bestselling novel that turned out to be the most popular work of fiction written in 19th Century America. Its aggregate sales were not surpassed until the success of "Gone with the Wind" in the 1930's. He is often linked with writing this book in Crawfordsville, IN, where he retired, but he also spent part of his writing career in Starke County.
Most references state Ben-Hur was written in his hometown, and the final years of writing took place when serving as its Territorial Governor in New Mexico. However, Northwest Indiana can claim his works as well. Early evidence suggests that Lew Wallace was visiting the Kankakee River as early as the 1860s. Indeed, local legend suggests that General Wallace wrote par of Ben-Hur under a big gnarled oak tree in Bass Lake. Though there is no data to support this claim, it is possible that he did some writing on other works while at Bass Lake. While Gen. Wallace never owned property there, his wife's sister, Mary, and her husband, Victor Elston, had a cottage in Bass Lake where Lew Wallace was seen writing in their front yard and visiting with Civil War veterans in 1885. According to Marvin Allen, a researcher for the Starke County Historical Society, there was 'no doubt' Lew Wallace was seen writing on his books. It could have been "The Prince of India" or later, his biography.
Sometimes legend is more interesting than fact. It suggested that Lew Wallace wrote most of Ben-Hur on his houseboat, and the wreckage can be seen against the bank at Baum's Bridge. The earliest mention of Lew Wallace writing Ben-Hur is at Riverside, a railroad stop where the Kankakee crosses 421 north of San Pierre, in a 1924 issue of the North Judson Newspaper. His influence extended into the community and beyond. The Knox High School had a Ben-Hur Literary Club in 1898. There was also a Ben-Hur Quartet in Knox and even a Ben-Hur Insurance Agency.
Also interesting is his relationship with veterans from the Civil War. Legend suggests a veteran named Billy Hine carved a boat at the Kankakee while his friend Lew Wallace was fishing there. It is believed that Billy named his boat Ben Hur in honor of his friend. It had 1906 carved in the bow, and Gen. Wallace died in 1905. The legend lives on.
Lew Wallace was nominated by Deborah Mix assisted by Charles Weaver, J.D. and Marvin Allen.
Sponsored by