Brewmaster Interviews
Being a brewmaster requires a whole lot more than just taste testing the latest batch of beer to come out of the barrel. It takes time, dedication, passion and perseverance. It involves chemistry and math and creativity, plus a whole lot of experimentation and experience.
Have you ever wondered about the people that create the amazing beers that you've been sampling at the different breweries along the South Shore Brewery Trail? We have - which is why we're talking to them about their craft, their passion and their history. Read their stories here, and check back often to see who we've been talking to lately!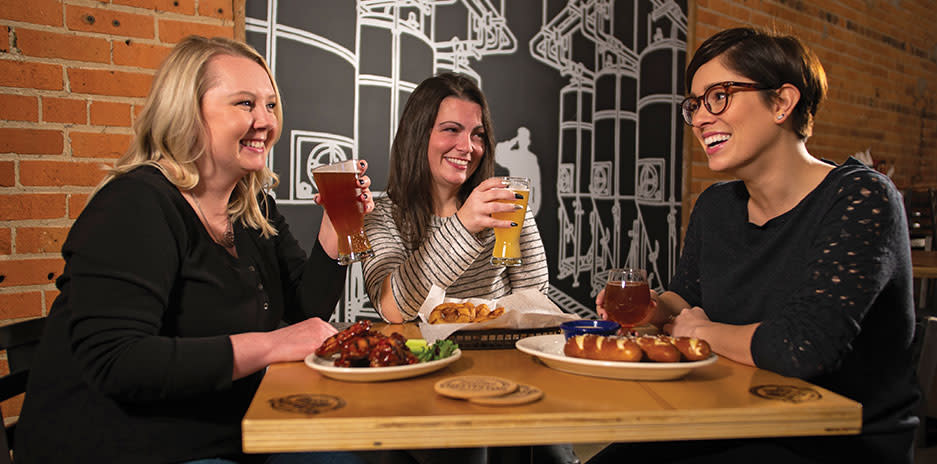 Chesterton Brewery
We were able to catch up with Vern Brown, Founder and Co-Owner of Chesterton Brewery recently to ask him a bit about the brewery.
A. Order anything from chicken wings and brisket to tacos and mac & cheese. Don't forget to add a growler when placing your order!
Q. What sets Chesterton Brewery apart from other craft breweries?
A. We are proud to be a veteran-owned brewery that also specializes in BBQ – smoked fresh daily. Our slogan is "veterans brewing for veterans."
Q. Tell us about "veterans brewing for veterans." 
A. We donate a portion of our craft beer proceeds to veteran-based charities like Mission One and Veterans Matter.
Q. What style of beers can you find on tap at Chesterton Brewery? 
A. We are all over the board here with 22 beers on tap. You can sip on everything from pale ales and stouts to lagers and Witbier.
Q. You have beers honoring veterans, can you tell us more about that?
A. Our beers have a generic name when they are first tapped. When we find a veteran we'd like to honor, we name the beer after them. It's a great way to not only honor them, but tell their story.
Q. What is your favorite Chesterton Brewery brew? 
A. Logan Strong Hazy IPA
Q. When you aren't drinking a Chesterton Brewery beer, what is your beer (or drink) of choice? 
A. Founders Breakfast Stout or a nice tequila
Follow Chesterton Brewery on Facebook for updates on Vern and what's happening at Chesterton Brewery.

Hunter's Brewing
We recently sat down with Amy Gentry, owner/brewer at Hunter's Brewing in Chesterton, to talk about the South Shore Brewery Trail and the craft beer scene in Indiana - and sample a few of their delicious brews. Here's what Amy had to say 
Q. Are you one of the few female brewers in NW Indiana or are you the only one?
A. One of the few. I was, I think, number two or three to come on in the state. The first person was down in Indianapolis and then I came online, and somebody else did right around the same time. In Northwest Indiana there are two of us that us that are owner-brewers, and that would be me and Barb, over at Ironwood. Industry-wide it's starting to pick up with more women joining. I think that Three Floyds has a woman brewer and I know that there's some places down in Indianapolis that do. It's kind of neat to see that all kind of coming on, but yes, I was one of the first in the state.
One of the things that we really put out there is that Justin and I – we call ourselves brewers, not brewmasters. We haven't been doing it that long – every day is a learning experience. We don't want to put ourselves out there as a master of something that we continually keep growing in and learning in. Maybe 20 years down the road when we've got tons of experience.
Q. When did you start brewing?
A. I started in 2008 home brewing, and Justin (he's my partner here) started in 2003. We both really engaged with the hobby and fell in love with it and kept doing more creative things and really honing our skills and styles, and then got the opportunity to move back here and do this, so here we are.
Q. Basically it's just the two of you that brew here?
A. It's the two of us that do almost everything here. We have some part-time bar staff, but otherwise, it's Justin and I that do everything, from start to finish.
Q. Neither of you have brewed at other breweries?
A. No, this is truly a start up and starting out type of thing.  
Q. How large is your brewing operation?
A. We are a one barrel, so we are the smallest in Northwest Indiana and one of the smallest in the state.
Q. How many different beers do you currently have?
A. We currently run eight of our own beers; sometimes nine.
Q. How many do you generally make on a yearly basis?
A. That's a tough question. Since we've opened, we've brewed more than 100 different recipes. Our board rotates all the time, so what you see on the board today, may not be the same as you see here Saturday or Sunday or if you came here next week. That's kind of the hallmark of our business here that we are always rotating and always changing. We may bring back something we haven't brewed in a while or add something new on the board. We have some staples that stay on most of the time. We're always developing something new and keeping it fresh and rotating.
Q. Do you do that depending on what your customers ask for?
A. It's a combination. We always try to keep a dark choice, a light choice, a hoppy choice and then everything else kind of around it. We always want to have some basic categories on the board. Obviously certain things that are popular, we'll brew more, but sometimes, it's just what are we in the mood to do. We try to make sure that when you look at our full line-up of eight or nine that we have something on the board for almost everybody. We always want to make sure that our board is balanced, and actually that's a real challenge – much more difficult than it might seem. We are always planning our brew schedules around that kind of thing.
Q. What are some of the more unique ingredients that you've used in your brews?
A. We've used New Mexico chili, both red and green, in different beers. We use hops that we grow ourselves at home in one specific beer. We do an apple beer – it's not a cider – it's actually an apple beer, aged on apples. We do a Belgium IPA that has rose hips in it. We have a heather ale that actually has heather tips in it. We're definitely not afraid of using unique ingredients, but our philosophy is you always have to be able to know what the base beer is and appreciate it for the style and then see the additions around it.
Q. Do you have a personal favorite?
A. (Laughing) You know, it's really more along the line of what I'm in the mood for, so it changes all the time. If we were to go out to any other place and if I had to pick a style, I generally pick brown ales, porters, stouts, things like that.  Justin is a hophead – he goes right for the IPA.
Q. What's your favorite pairing between food and beer?
A. Oh, definitely that would be cheese. Cheese and beer. The flavors in cheese can range from the mild and soft to the pretty aggressive and I think it's the same with beer. You can get some milder, softer beers and they can range on up to really robust and definitely deep bitter and all sorts of different things like that. Finding cheeses that pair with beers is always something that's a lot of fun.
Q. Now switching to the Northwest Indiana craft beer scene as a whole, what's your favorite thing about it?
A. I think my favorite thing about it is that it's really up and coming. It's turning into a destination for people because now there are enough breweries to warrant something like a weekend trip to the region to visit breweries. We do a lot of beer travel on our own when we can get out of here. We tend to center our travel around breweries and the beer scene and whatnot so it's nice to see that Northwest Indiana is turning into that type of thing.
Q. Are you going to be doing any of the regional beer festivals?
A. We do a number of them. We'll be at the Blue Chip [Brewfest] on April 11, we'll be at Crown [Beer Fest] on May 16, we'll do the Indy Microbrewers Fest on July 18, and then of course we do Porter's Perfect Pint Festival that's on October 10. As much as we'd like to attend every single one, it's just not possible.
Q. Say someone walked in here and was a newbie like me – what would you recommend for them?
A. If someone comes in here and tells me – and we hear it all the time – "I only drink light beer," we generally say that we don't have anything that's just like what you are used to drinking, but some of our lighter choices are… and then I'll start to talk about them. Take some sips of some things, let's see what works for your palate and what we can find that might interest you. I'm not going to pour you a pint of something that you're not going to like. There's no sense in doing that. It's working with the customer to find out where they are and seeing what we can help them find that they might like.
Q. Do you offer flights?
A. We do. A full flight is all of our beers in a four and a half ounce size, so we tend to sell it when people come in groups – it's a good sharing size. Or you can build your own. You can customize it any way you want.
Q. What are your thoughts on the South Shore Brewery Trail?
A. I think it's amazing. I think it's really something that is super valuable for the region, not only for people that already live here, but really for tourism. I think it really will help people coming in to the area, especially those that are looking to do a craft beer day, to structure visits the way that they want to. It gives them a really nice, succinct outline without them having to spend half a day on Google figuring out where these places are. I think it's a fantastic idea. As more people find out about it, it's really going to take off.
Q. What advice would you give to someone who is thinking of getting into home brewing?
A. I would say go for it. It's a fantastic hobby. Educate yourself, make use of the resources that are out there for home brewers, talk to people and don't be afraid to try. If the first one doesn't work out, try again. It takes time to learn how to brew – it doesn't happen overnight. Stick with it.