Class of 2021


Naomi Bowman Talbert Anderson
A Life of Activism
Naomi Bowman Talbert Anderson (1843-1899) was born to free black parents in Michigan City, Indiana in 1843. Initially barred from attending public school, she was later admitted to a previously all-white school at age 12. This Michigan City native became a tireless advocate for women's rights and for racial equality. In 1869 she spoke before a women's suffrage convention in Chicago. After her fiery speech, newspapers covered her speeches, honors, women's suffrage, civil rights advocacy, temperance and philanthropic involvement. Her message to former slaves was for them to ensure that their children were educated.
With great courage, Naomi Anderson confronted two of the most critical issues in 19th-century America: voting rights for women and civil rights for people of color. She became known for her writing and civic involvement in the five states in which she lived, and speeches to audiences great and small throughout the Midwest following the Civil War and in California during the final years of her life.
Fiercely independent, Naomi Anderson moved around the country, speaking at hundreds of suffrage events. Beginning with her first public speech, her eloquent and empowering words acknowledged women's right to vote. In 1896, Naomi Anderson and Susan B. Anthony jointly led a campaign in support of a California ballot proposition to give women the right to vote, with Mrs. Anderson gaining top billing on at least one occasion.
Naomi Anderson lived a life of brilliant and effective activism. She founded three orphanages, trained women in business, established a seamstress union to ensure fair wages, fought for educational opportunities for girls and food for orphans, and fearlessly spoke at city council meetings. She served as the Kansas state representative to the National Woman Suffrage Association and represented her church before the Kansas legislature in her fights against school segregation.
Naomi Bowman Talbert Anderson was nominated by Bonita Schaaf and Mary Neil Murphy.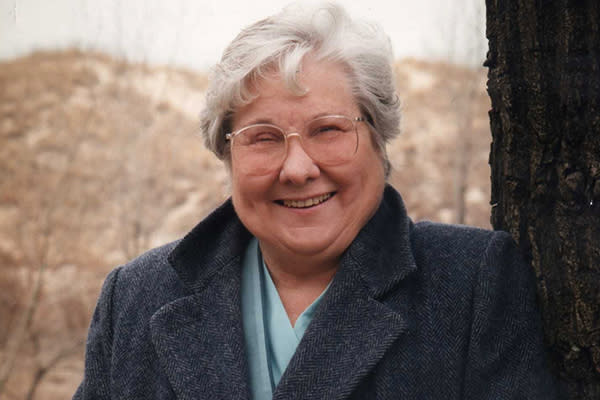 Lee Botts
Champion of the Great Lakes
Lee Botts' life of volunteerism led to environmental activism and work in nonprofits, government and academia. During her lifetime (1928-2019) she founded two nonprofit organizations, decades apart, that continue to thrive today. Lee was a powerful influence and mentor to many environmentalists in the Chicago area, Northwest Indiana and the Great Lakes region.
While raising her children, Lee became involved in the campaign to protect the Indiana Dunes through the Save the Dunes Council. In 1966, those efforts culminated with the creation of the Indiana Dunes National Lakeshore (now the Indiana Dunes National Park). Prior to her full-time move to Miller Beach, Lee worked with such environmental organizations as the Open Lands Project in Chicago (now Openlands), the U.S. Environmental Protection Agency and the Great Lakes Basin Commission.
In 1988, Lee became an adjunct professor at Indiana University Northwest and joined several local organizations and boards. She played a notable role in bringing environmental, business, industry and local government representatives together around their common interests in Northwest Indiana. From 2007 - 2010, Lee served on the State of Indiana's Water Pollution Control Board.
Lee began advocating for an idea she had first written about a quarter-century earlier: an environmental education center in the national park. In 1997, she led the founding of the Indiana Dunes Environmental Learning Center (now the Dunes Learning Center). An independent nonprofit located within the park, the Learning Center offers year-round programs and overnight nature camp experiences for grade school students and teachers.
The documentary "Shifting Sands: On the Path to Sustainability" debuted on Earth Day 2016. The production of this documentary was another dream of Lee's as she wanted to tell the story of the development and implementation of game-changing environmental policies in Northwest Indiana and the worldwide impacts of these policies.
Lee Botts was nominated by John Davies.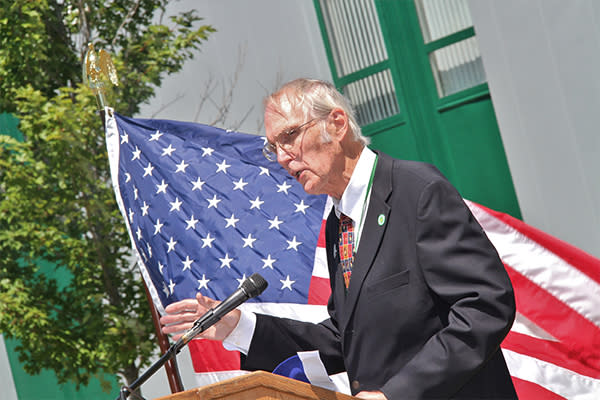 John H. Davies
Advocate for Northwest Indiana
John Hughes Davies has transformed Northwest Indiana through his tireless efforts to promote the region in a positive and constructive way. From his early work with the Northwest Indiana Wellness Council and the 'Say Yes to Fitness, No to Drugs' White House campaign, to his 65-mile marathon walk "Celebrate Northwest Indiana" highlighting the beauty and diversity of our Region, John has made an impact. John also brought local Northwest Indiana steel to Hawaii for steel-framed housing, was the brainchild behind the Millennium South Shore Poster Series as well as created the South Shore Legends.
John also grows thousands of black walnut legacy trees for the next generation at his family farm (Bryn Awelon Farm). Through these efforts, John has made a substantial, lasting impact -- locally, nationally and globally. John's contributions will continue to reverberate for generations to come, long after he is gone.
John was born on October 10, 1943, in Washington, D.C. He graduated from Valparaiso University in 1965 before joining the United States Marine Corps. After his discharge, he began his "journey" which included stints in investigative journalism, public relations for Harvester International, The Cotton Board, the former Our Lady of Mercy Hospital, the Northwest Indiana Forum and the Gerald I. Lamkin Innovation and Entrepreneurship Center of the Ivy Tech Community College, Gary Campus.
As the creator of the South Shore Legends, John brings more than 15 years of studying and interviewing hundreds of innovators in Northwest Indiana. John also embodies the pillars of a South Shore Legend: innovation through his ability to draw connections between local and homegrown greatness, courage with his ability to see limitless opportunity to make things better and reinvent a region (and himself), and exploration through his work with Dare to Dream celebrating America's Creative Spirit to his interest in Space to Expand Minds (STEM) for youth.
John's unyielding love of Northwest Indiana was recognized in 2019 as he was the recipient of the first Lifetime Achievement Award from the Northwest Indiana Society of Innovators. Additionally, he also received the Chester Dobis Lifetime Achievement Award from the South Shore Convention and Visitors Authority.
John Davies was nominated by his daughters, Kelly and Jennifer Davies.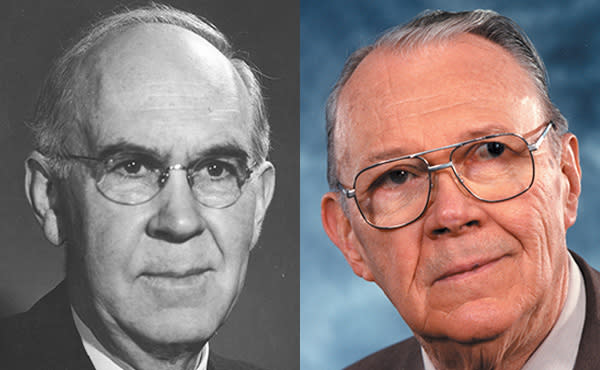 William E. and Dr. Joe R. Urschel
Pioneers and Innovators
Northwest Indiana has been home to Urschel Laboratories since it was founded by William E. Urschel (1880-1948) after his successful invention of the Gooseberry Snipper. Since its early days, Urschel Laboratories has served as an international leader in the development of cutting-edge technology. Today, the company's focus is within the food processing machinery arena as consumers worldwide purchase foods processed using Urschel machinery, In 1948, Joe (1913--1996) succeeded his father as president of the company. Greatly influenced by his father, Joe dedicated his life to inventing, designing and manufacturing food processing equipment and machinery. It was under his leadership that the company expanded in Northwest Indiana as well as internationally.
William and Joe were both pioneers and innovators. Between the two of them, they hold more than 140 U.S. patents, many of which helped shape the technology we use in the present day. William's 1941 patent concerning a concrete forming/laying machine is believed to be the earliest venture into what is now popular 3D printing. One of Joe's most notable inventions is the single-pass milling machine, the Comitrol® Processor Model 9300, which remains the go-to in the production of peanut butter and nut milk.
Over the course of their lifetimes, both were active business and civic leaders in Valparaiso as well as in national industry associations. Through their work and community involvement, William and Joe Urschel exemplify the four pillars of a South Shore Legend. Their determination and courage in exploring new technologies resulted in innovative inventions. By finding new and more precise ways to cut commercially processed foods, they increased efficiencies, reduced labor and used the South Shore ingenuity to impact consumers locally, regionally and globally.
William and Joe Urschel were nominated by Employee Owners of Urschel Laboratories, Inc.
Sponsored by