Indiana Dunes
National Park Notice: Whether you are vaccinated or not, masks are now required in all buildings within the Indiana Dunes National Park.
Enjoy a family camping trip, an ecological study or just a relaxing day at the beach. Stretching 25 miles east along the south shore of Lake Michigan, the Indiana Dunes National Park and Indiana Dunes State Park welcome nearly four million guests to their sandy beaches and beautiful trails each year.
Head to the beach and dip your toes in Lake Michigan. Walk or bike miles of trails. Hike along the sunny prairies, peaceful forests and towering sand dunes. The landscapes along the southern shores of Lake Michigan are some of the most biologically diverse in the nation. Keep your eyes open for the more than 350 bird species and hundreds of animal species that call the Indiana Dunes home. There are also more than 1,400 species of ferns and flowering plants that grow here.
Learn about more activities with our list of 61 Things to Do at the Indiana Dunes!
The Indiana Dunes National Park is comprised of more than 15,000 acres of dunes, oak savannas, swamps, bogs, marshes, prairies, rivers and forests, offering a wide variety of activities year-round.
Visitors can take advantage of beautiful beaches, unique hiking trails and the historic sites of Bailly Homestead and Chellberg Farm.
The national park is a beautiful spot for hiking, with 11 trails throughout the park of varying lengths and difficulty levels.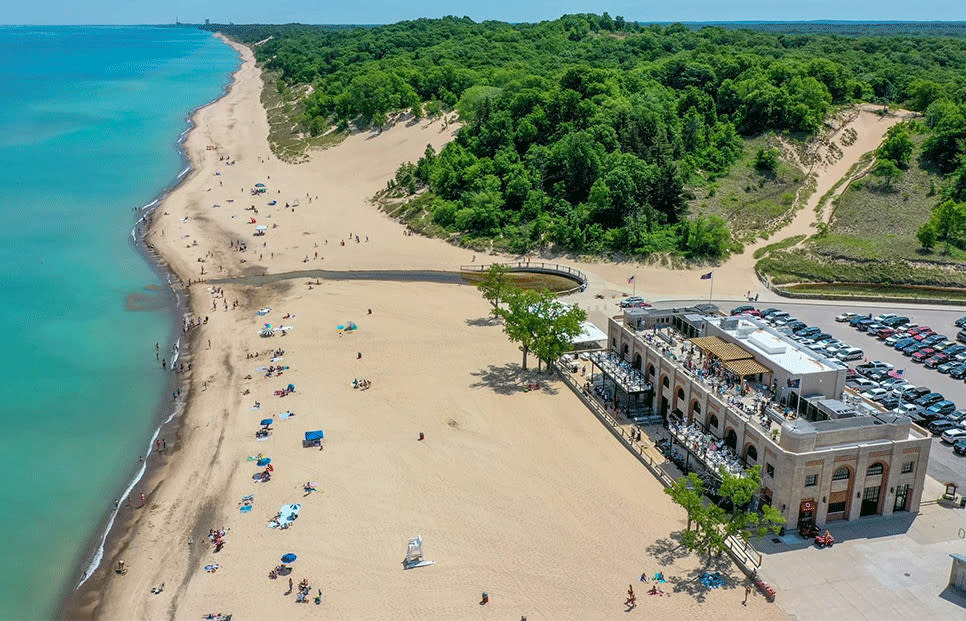 At the Indiana Dunes State Park, large sand dunes, located beyond the entire shoreline, have taken thousands of years to form, and tower nearly 200 feet above Lake Michigan.
Three miles of beach run along Lake Michigan's southern shore. The park also offers 16.5 miles of trails, several that traverse Mount Tom. Enjoy everything the park has to offer with a stay at their campground.
There is a small fee for parking at the state park.
---
Beach Safety Warning: Do not swim in large crashing waves, which can cause rip currents or when rip current warnings are posted. These strong currents rushing out into Lake Michigan can carry even the strongest swimmer with them and cause a number of fatalities every year.
If you get caught in a rip current, do not try to swim against it. Instead, swim parallel to the shoreline until you are out of the current. Check for beach hazard warnings before you go - visit the National Weather Service website or view a map of swim risks on the Great Lakes here. Learn more on the Great Lakes Surf Rescue Project site.
---
Last Minute Updates
For beach and park updates at the National Park, follow them on facebook.
You can also call 219-395-1003 to get recorded information on available parking at Indiana Dunes National Park beaches and the nearby Indiana Dunes State Park.
---