County Line Orchard
The benefits of living in the Midwest are apparent during harvest season.
Apple picking is a time honored tradition in the South Shore. Red, gold, green, sweet and tart, the apples are ripe for picking from the end of August to October at County Line Orchard in Hobart.
County Line Orchard is the closest U-pick orchard to Chicago and features dozens of varieties of apples, special events, corn maze as well as a beautiful backdrop for weddings and other celebrations during the off-season.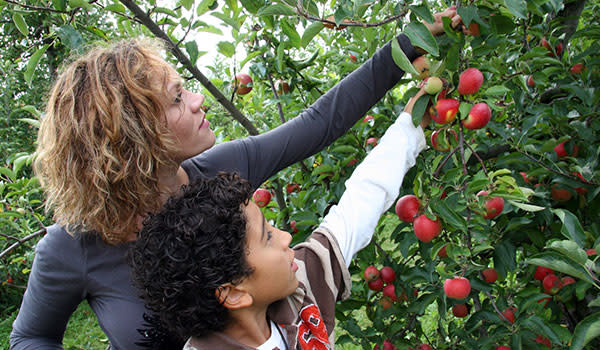 Apples
Jump right in to pick more than 30 varieties of apples with your family. A tractor will take you and your family through scenic fields to the orchards where you can fill baskets with the ripest fruit. Cost: General Admission and what you pick (per pound).
Pumpkins
The Orchard remains open through October so you can hunt for the perfect pumpkin in the patch or you can pick one that's already waiting in the Big Barn. Cost: General Admission and what you pick (approx. $.40/lb. or max $12).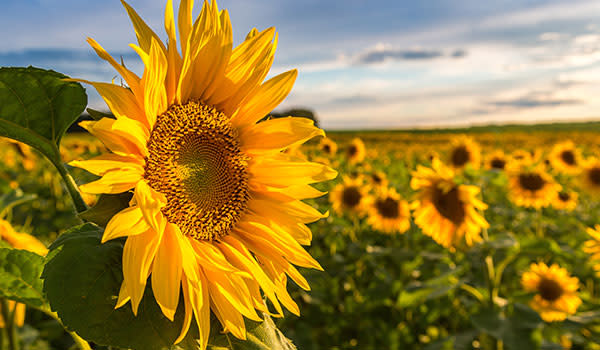 Sunflowers
Pick your very own sunflower from mid to late September. Cost: General Admission and pay for a large or small bunch.
Honey
Visit the bee yurts to view the bees that make the orchard possible. You'll see hundreds of bees at work. Limited hours for school tours.
Attractions
If you have extra time, be sure to get lost in the Orchard's enormous corn maze or take a ride on the Moo Choo for a fun and memorable tour of the farm.

Stop into the Big Barn for lunch or jam out to some live music in the Barnyard area. Gain access to the Kid's Farm ($5/Lil' Farmer Pass or $10/All Access Pass) where you can see pigs and goats or ride a pedal tractor and get lost in the mini version maze – made of bales of hay.
Bakery and Kitchen
The Orchard offers on-site restaurant options including the County Line Kitchen, Sweet Shop and County Line Grill.
You won't be able to resist at stop at the bakery to get County Line's infamous pumpkin and apple donuts.
They also offer pies, cookies, bread and other treats. Grab some cider, jam or apple butter at the Store on your way out to enjoy your trip to the Orchard even after you return home.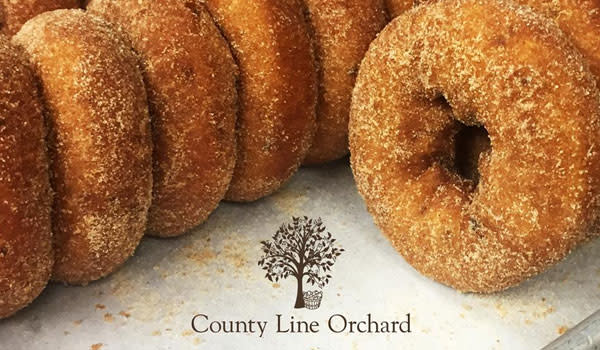 Weddings & Special Parties
The Orchard offers activities to keep your group busy. Enjoy group rates, campfires and hayrides or the perfect setting for an authentic rustic wedding.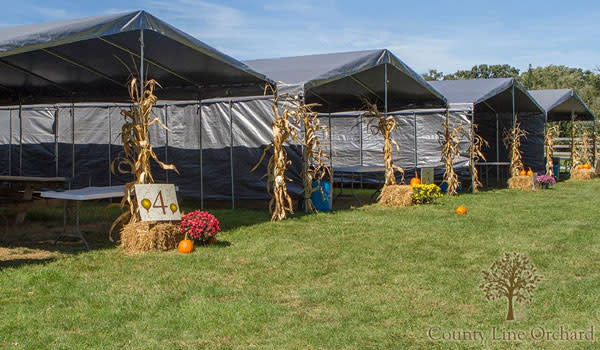 Party Village
Plan a birthday party or special event in the private area. Packages include passes for the orchard, Moo Choo rides, grill items and much more.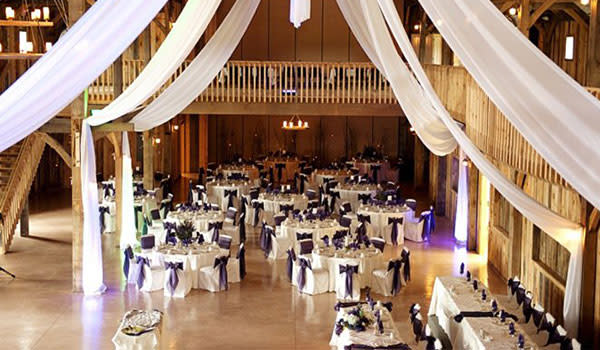 Weddings
For the perfect barn wedding - look no further than County Line. The Barn is a full-service banquet facility that provides food, tables, linens, dinnerware and on-site staff. Impress your guests with an outdoor wedding among the trees and a beautiful rustic wedding.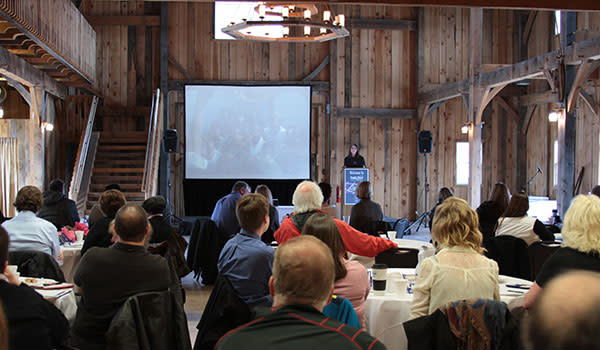 Corporate Events
Book with County Line Orchard for a unique spot to hold your corporate meeting or retreat. The friendly staff will help you with A/V needs, menu planning and set up.