Sandhill Crane Migration
Majestic flocks of sandhill cranes can be observed in northern Jasper County and the surrounding areas from late September through December, generally peaking in mid-November. Sandhill cranes make the South Shore their stopover on their long southerly migration to Georgia and Florida. The birds' natural habitat includes marshes, wet grasslands, river basins and harvested farm fields, all of which can be found in the northern Jasper County region.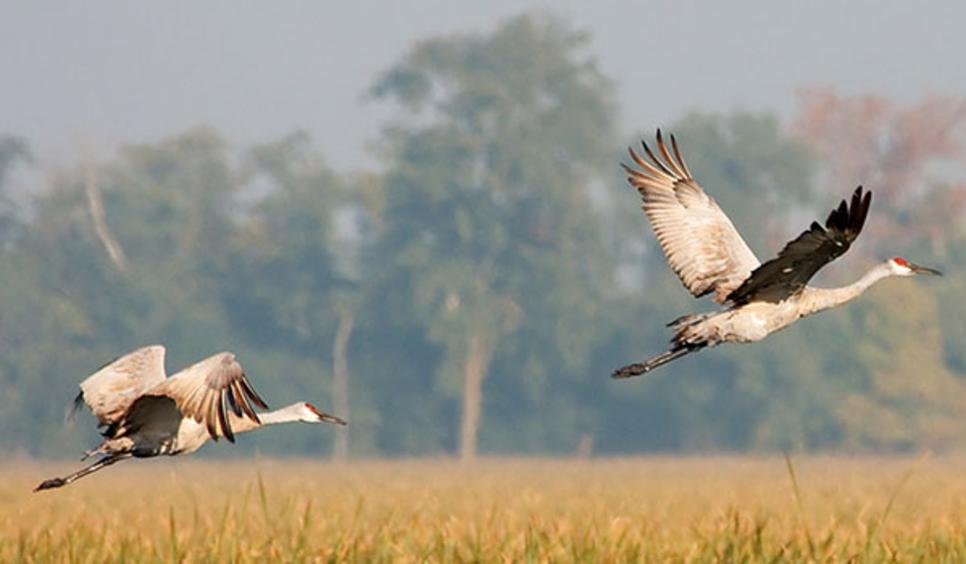 About the Sandhill Cranes
Stand three to four feet high
Long, slender necks and legs
Wingspans that can exceed five feet wide
Generally gray in color
Adult cranes have a distinctive red crown and pale white cheeks
Younger cranes have a reddish cast to their feathers
Where to View the Migration
Although these birds can be frequently seen in the surrounding fields and in the air, the best place to view them en masse is Jasper-Pulaski Fish and Wildlife Area. Tens of thousands of cranes visit the area's shallow marshes each year. The Goose Pasture Viewing Area features 300 acres of field surrounded by wetlands. Visitors can view the cranes, check out their courtship rituals and listen to their trilling calls from an elevated platform equipped with telescopes.

Best Viewing Times
At sunrise, when the huge flocks fly out of their roosting marshes to Goose Pasture, where they will socialize for a while before heading out to the local farm fields to feed
About an hour prior to sunset, when the flocks head back into Goose Pasture before returning to the roosting marshes
Viewing Tips at Jasper-Pulaski
Best spot for viewing is the Goose Pasture Viewing Area's elevated platform
Dress for the weather
Bring a pair of binoculars
Restrooms and a shaded picnic area are available nearby
To see weekly counts and for more information on the peak season of the sandhill crane migration visit Indiana DNR here.
---
More Birding Opportunities
The wide variety of habitats - beaches, marshes, forests, wetlands and dunes - make the Indiana Dunes one of the best areas in the Midwest for birding.
Discover Northwest Indiana's bird watchers paradise! Find bird sanctuaries, nature preserves, county parks & more including the Indiana Dunes.