Photos with Santa
Santa is booked for this year, but you are still welcome to come in to see the exhibit - no appointment needed for that!
Schedule a time to have your photo taken with Santa at the Indiana Welcome Center! Just like last year, Santa will be inside the theatre with a glass partition between him and his guests. Families will be kept at least six feet apart while waiting for their visit.
Appointments are $10 and include one printed photo. Additional photos can be purchased for $6 when you make your appointment or during your visit.*
Please arrive ten minutes before your scheduled time. If anyone in your group has special needs and/or cannot use stairs, we will make accommodations at your appointment.
Mask Requirements
Following the Lake County Board of Commissioner's mask mandate order for county owned buildings, please be advised that masks are required during your visit to the Indiana Welcome Center for all adults and children who are old enough to walk. Once seated on the opposite side of Santa, families are allowed to take off their masks for a photo. 
Guests are required to put masks on again before exiting the theatre.
*Appointments cannot be cancelled and refunds will not be given. However you may reschedule your appointment up to one day prior if a new time slot is available. Use the rescheduling link in your confirmation email to reschedule or call us at 219-989-7979. In the event that the Indiana Welcome Center closes due to unforeseen circumstances, refunds will be given to all prepaid appointments. 
---

SANTA'S SCHEDULE
SATURDAYS AND SUNDAYS
November 27 - December 19, 2021 (SESSIONS ARE FULL)
10:00 a.m. - 3:00 p.m.

SPECIAL DAYS
Open to Everyone
Friday, November 26, 2021 (​SESSIONS ARE FULL)
Tuesday, December 21, 2021 (​SESSIONS ARE FULL)
Wednesday, December 22, 2021 (SESSIONS ARE FULL)
Thursday, December 23, 2021 (​SESSIONS ARE FULL)
10:00 a.m. - 3:00 p.m.
Holiday for Heroes
December 9, 2021
ONLY for first responders, active and retired military and their families. Please show your military ID or work badge for admission. 
5:00 p.m. - 7:00 p.m
Schedule Holiday for Heroes Santa Visits Here
All is Calm
December 15, 2021
ONLY for children and adults with special needs. Enjoy a sensory-friendly exhibit and visits with Santa. 
10:00 a.m. - 3:00 p.m.
5:00 p.m. - 7:00 p.m.
Schedule All is Calm Santa Visits Here
Come See Us
Plan your visit to the Indiana Welcome Center in Hammond, Indiana during the holiday season.
Locate us and find the exhibit and gift shop hours below.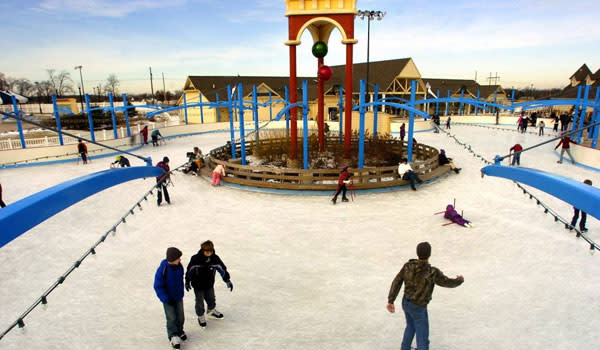 More To Do This Holiday
We've put together more things to do and events happening throughout the Region this winter below - from outdoor to indoor! 
For year-round fun, visit alongthesouthshore.com.