Asparagus Restaurant
Restaurant Weeks Menu
A unique Asian fusion restaurant and lounge in Merrillville.

7876 Broadway
Merrillville, IN 46410
(219) 794-0000
www.asparagusrestaurant.com
Reservations suggested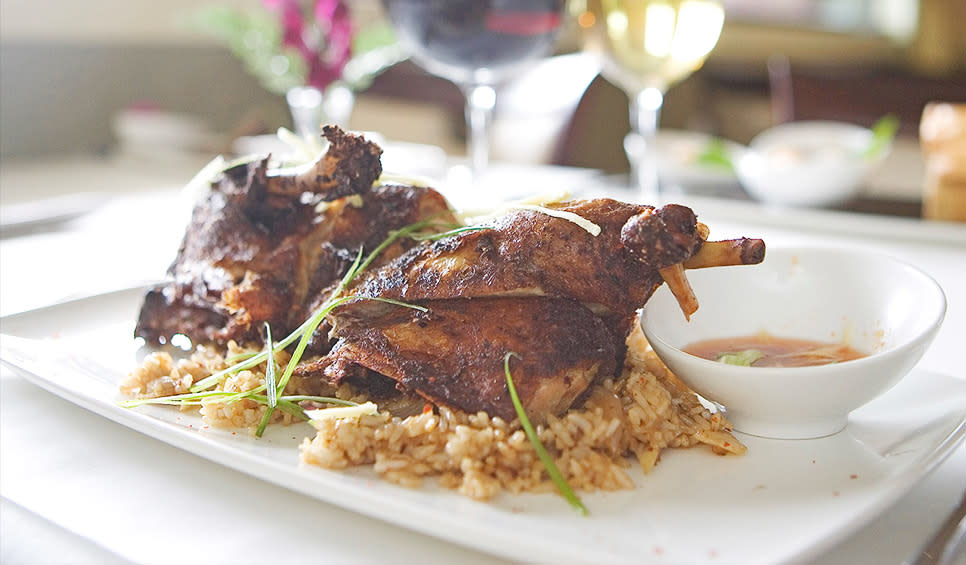 All Day Menu
Dine In or Carryout
Cost: $45 per person
No substitutions can be made to this pre-fixed menu. Not all ingredients are listed. Please alert your server if you have any food allergies and/or dietary restrictions. Any dishes that have been altered or modified cannot be returned.

Appetizer (choose one):
- Avocado Crispy Rolls -
Avocado, red onion, tomato and cilantro
- Pork Meatballs -
Grilled pork meatballs on skewers served with sweet & sour sauce
- Peasant's Chicken Satay -
Marinated in curry and fresh coconut puree, seared over a flame and served with housemade peanut sauce
Entrée (choose one):
- "To Die-For" Pork Shank -
Traditional Vietnamese pork shank braised in a sweet caramelized sauce, pork belly and hard-boiled egg
- Siam Spicy Catfish Curry -
Catfish fillet fried to a golden crisp, served in a basil curry sauce, sweet bell peppers, green beans and crispy basil
- Pad See Eiw with Beef -
Stir-fried flat rice noodles with scrambled eggs, broccoli and baby bok choy in a sweet pepper soy sauce
- Spicy Baked Salmon -
Salmon in a Thai spicy marinated sauce, served with stir fried vegetables
- Five Spice Duck -
Roast duck served with ginger soy sauce and shiitake-ginger fried rice
 
Dessert (choose one):
- Humming Bird Cake -
- Crème Brûlée -