Water Trails
Adventurers can enjoy hundreds of miles of waterways in Northwest Indiana. Paddlers can experience no-wake lakes or the expansive waters along the South Shore of our Great Lake, Lake Michigan. Streams and rivers intersect throughout the Region, for quick trips or day-long adventures.
Enjoy hundreds of miles of blueways with numerous access points, many of which are ADA compliant from the Kankakee River in the south to Lake Michigan in the north.
Download a map of the South Shore's trail systems, including waterways and hiking and biking trails below. Or call the Indiana Welcome Center at 219-989-7979 to request a Blueways and Greenways Map.
---

Suggested Kayaking and Canoeing Trips: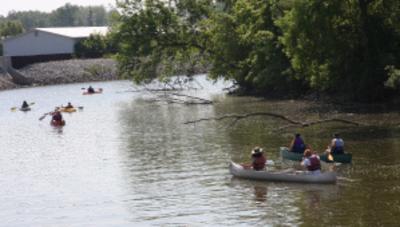 Calumet Water Trail
The Little Calumet River offers water trail options in Illinois, through Hammond/Gary and in Portage.
The Upper Little Calumet River in Illinois is great for beginners and follows a stretch of the upper Little Calumet River winding through South Holland, Harvey, Riverdale and Blue Island. Parking is available at the Little Calumet Boat Launch Preserve. Visit paddleillinoiswatertrails.org for suggested trips along the Illinois portion of the Little Calumet River.
For the West Branch stretch, visitors can park at the Indiana Welcome Center located at 7770 Corinne Drive in Hammond, to access the new launch site. Paddlers can travel to Gary while enjoying 40+ species of wildlife, like bald eagles, along the way.
The East Branch stretch runs from the National Park to the Lakefront Riverwalk in Portage. This 6-mile loop is channelized and is great for paddlers of all skill levels.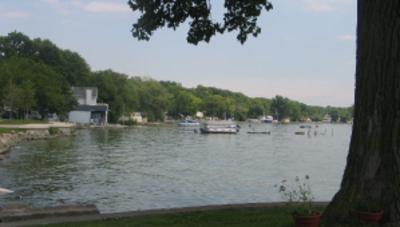 Cedar Lake
Take a tour around Cedar Lake, a predominately residential lake, in southern Lake County. Cedar Lake's public access site is located on the north end of the lake at 7609 Lake Shore Drive in Cedar Lake. Visit cedarlakechamber.com for more information and special events happening around the lake. Parking is free at the launch site.
Deep River Water Trail
The Deep River Water Trail offers 16 miles of trail with a number of access sites along the way. Stretches of this trail offer plenty of scenery and primitive shorelines. The trip will take anywhere from 2 to 3 hours and a parking area is available to the public at Deep River County Park.
Plan your trip along the Deep River Water Trail here.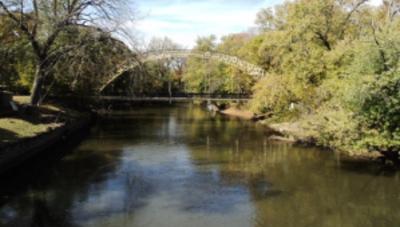 Kankakee River, A National Water Trail
Kayak or canoe along the Kankakee River, recently designated a National Water Trail, covering more than 130 miles from Indiana to Illinois. The Kankakee River is one of the cleanest rivers in the Midwest and there a number of launch sites along the route.
The Kankakee River's Grand Waterway passes through the Kankakee State Park and meets with the Illinois River.
The Ancient Wetlands will take you from the Illinois state line and meanders through wetland habitat in Illinois.
The Wooded Channel portion is tree-lined and runs through a number of conservation areas and parks.
The Upper River is channelized, runs through farmland with little tree cover.
Visit kankakeeriverwatertrail.org for detailed information about paddling the Kankakee River.
 
Lake Michigan Water Trail
The Lake Michigan Water Trail is the longest continuous-loop water trail in the world. Along Indiana's border, paddlers can enjoy miles and miles of trail along Lake Michigan. Launches can be accessed from as far west as Whiting and as far east as Long Beach. Caution must be used when paddling near active beaches and around motorized watercraft.
Launch areas include: Whihala/Whiting, East Chicago, Marquette/Gary, Portage Lakefront Park, Porter Beach, Kemil Beach, Dunbar Beach, Lake View Beach, Washington Park/Michigan City and Long Beach.
Learn more about the Lake Michigan Water Trail here.
LaPorte Lakes
Pine, Stone and Lily Lake are all a part of LaPorte's Chain of Lakes that were left behind during the last ice age when the glaciers retreated.
Pine Lake is the larger and busy with boaters and jet skiers as it is a preferred recreational lake. Paddlers are encouraged to stay along the shore on Pine Lake.
Stone Lake has a 5 mph no-wake limit and offers a quieter and leisurely adventure. Like Pine Lake, Stone Lake features clear, sparkling waters.
Also nearby is Clear Lake, with a public access site and picnic areas at Fox Park.
---

Watersport Rentals
Near Lake Michigan? Stop by the Camp Stop General Store & Beach Shop in Beverly Shores to rent bikes, kayaks or paddle boards. Call ahead for prices and availability 219-878-1382. 
Harbor Country Adventures in Michigan City offers wave runner rentals for Lake Michigan and kayak (single and double) and paddleboard rentals along Trail Creek. If you prefer letting someone else do the work, they also offer tours that cruise along Lake Michigan.
Paddle on Cedar Lake with Bugaboat Rentals (an affiliate of Bugaboo's Bar and Grill). Single, 2-3 person and kids kayaks are available as well as paddle boards. Call ahead for prices and availability 219-390-7232.