"Farm fresh," a popular buzz word that signifies you will be eating the freshest food available; a fresh - never frozen - experience. Your trip to Fair Oaks Farms is no exception. On one of the nation's largest working dairy farms, you can enjoy some of the freshest food you'll eat and the opportunity to experience modern day farming.
On the grounds, you can see the labor of love first-hand. The vegetable garden, the Pig Farm and the Dairy Farm all provide their artisan cheeses, fresh meats and savory meals.
If you're stopping in for breakfast or lunch, the cafe has award-winning cheeses, mouthwatering soups, sandwiches and salads. Breakfast is served until 10:30am in the café, where you can choose from a pancake breakfast, french toast or an ultimate breakfast burrito.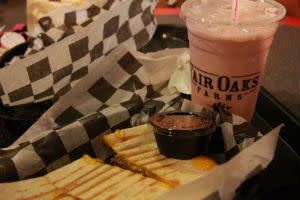 For lunch, offerings include "almost famous" grilled cheeses, paninis or a specialty sandwiches like a Cuban Pork or Ruben.
You can't leave without dessert; creamy ice cream made from Fair Oaks' very own milk. Inside the café, is the Cheese Factory, where you can get a behind-the-scenes look at how cheese, ice cream and Greek yogurt are made.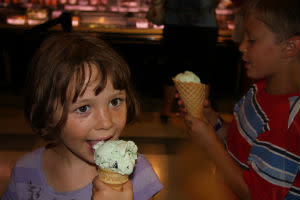 Feel free to sample cheeses and choose from their award-winning selections like the 2013 American Cheese Society 1st place winner - Smoked Sweet Swiss.
You don't need to leave the kids at home when you visit the Farmhouse Restaurant; a family-friendly atmosphere and the Kid's Menu offers favorites like Mac N Cheese and pizza. Comfort foods are also covered: fried chicken, Potato Mash and Country Apple Pie. Try a classic, like meatloaf, with a twist. Hint - it's wrapped in delicious bacon.
Each plate is prepared with the freshest ingredients and takes the traditional meal to the next level. Enjoy pecan crusted walleye, the "Indiana" Pork Tenderloin Sandwich or Pig Sty Pizza - straight from the farm. Don't forget that cheese curds! Rumor has it that these are so popular, they often run out. So grab them while you can.
Walking in the servers make you feel at home and provide service with a smile and during your dining experience, you can watch the chefs masterfully prepare your meal. The Farmhouse also has an expansive bar, offering domestic and craft beers, fragrant wines and classic cocktails.
If you go: Fair Oaks Farms is located at 856 N 600 E in Fair Oaks, Indiana just off I-65. Plan to stay awhile, the Dairy and Pig Adventure, interactive exhibits, tours and family-fun happen year round. Visit online at www.fofarms.com to plan your trip.