I never knew that Gabis Arboretum existed and oh man have I been missing out! This 300-acre preserve is packed with a variety of trails, gardens, woodlands, prairies, and wetlands. When I told my sister I was interested in exploring this place, she got excited because she had been there a few times with her students. She could not believe I did not know about it! We decided to make the drive out to Valparaiso on a Thursday afternoon with the dog. I was immediately impressed with the preserve right off the bat. Driving through the entrance feels like you are passing into a fairy world. The Active Times said this place is the most romantic place in Indiana and I would have to whole-heartily agree.
Trails at Gabis Arboretum
We parked the car and pulled out the map we were given at the entrance. There are seven trails in all and all of them are named after different types of birds. We chose the longest trail, the Bluebird Trail. This trail has a mix of woodlands, prairie, and wetlands. A perfect choice to get a taste of all the preserve has to offer.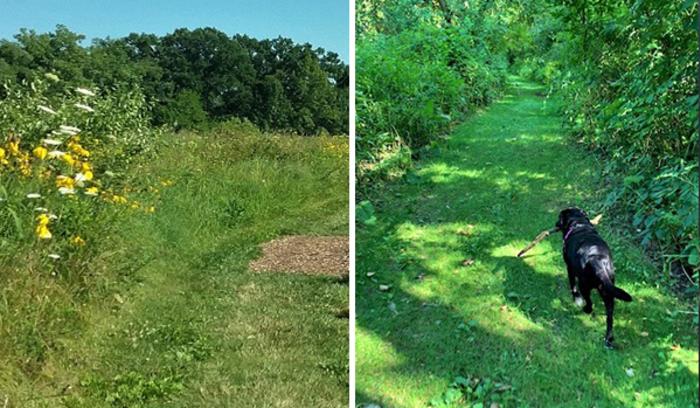 Adventure Garden
The first garden we came upon was the Adventure Garden. Tall plants and vegetables lined the entryway. There were bunnies and chickens in the first coop we came across. My dog has never seen chickens before. She kept getting low to the ground and tentatively inching closer to the birds to get a sniff. The huge turkeys on the other side of the Adventure Garden really freaked her out. We could not stop laughing as she tried to be tough by barking at them but then would run away.  They gobbled back at my dog to show that they were displeased with her making loud noises. Things went better with the goats who were so cute with their thick round bodies and stumpy legs.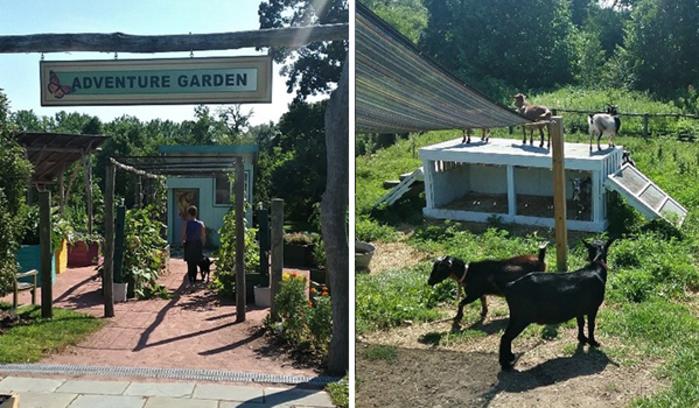 Tree Song Music Garden
The next garden we came upon was the Tree Song Music Garden. There were about four to five different unique objects to make music with and we enjoyed exploring how to create different sounds with each one.
Butterflies
We continued walking the Bluebird Trail for a bit and were shocked at how many butterflies we saw. Traditional monarch butterflies and yellow butterflies with a bit of blue at the bottom of their wings flew all around us making pit stops at the abundant different wildflowers lining the path. Black and blue dragonflies whizzed past our ears with a loud zoom sound and, for some reason, kept bumping into my elbows.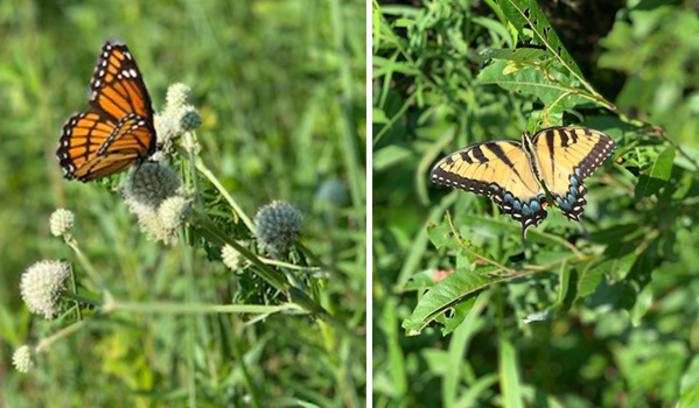 Savannah Wetlands
We took a rest at an open structure frame with benches that faces the Savannah Wetlands. We sat there taking in gorgeous view while listening to the frogs converse with each other and watching the sunlight reflect on the water.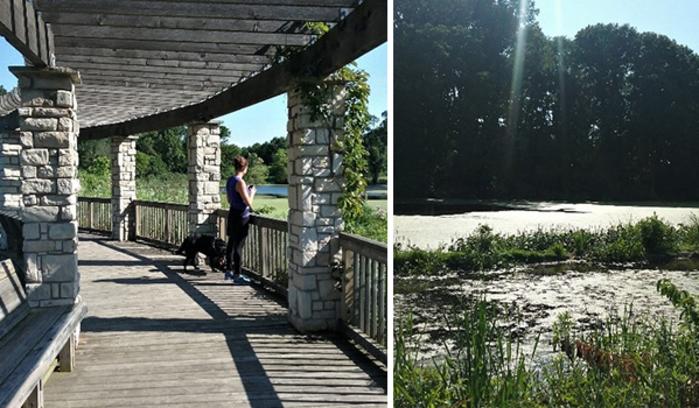 Oak Collection
My favorite part of the Bluebird Trail was a huge tree that my sister told me had been there for centuries and was an important place for the Native Americans living in the area at that time. We stared at the huge branches and marveled at how a tree could be so old. 
Railway Garden
The Bluebird Trail ends at the parking lot with the magnificent Railway Garden as like a finale.  Dogs are not allowed in this garden, so my sister stayed outside with my dog. I slowly walked around the garden in awe of how much detail was put into the different displays which tell the story of America's steam engine history. Model trains chug along on the tracks through all the displays at different times of the day.  It was one of the coolest things I have ever seen.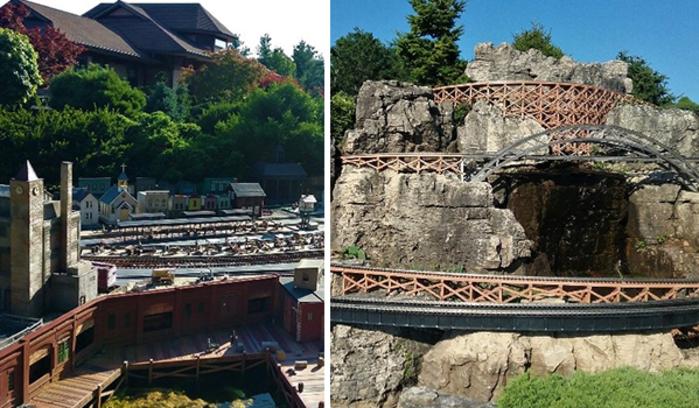 On the way home my sister and I could not stop talking about how beautiful and peaceful Gabis Arboretum is and how connected to nature we felt. It was truly an enjoyable experience that I plan on having again very soon. 
Plan Your Visit to Gabis Arboretum
Gabis Arboretum at Purdue Northwest is located at 450 W 100 N Valparaiso, Indiana. The preserve is open daily from 8am – 7pm with the Railway Garden being open 10a – 5pm (seasonal). Admission is $10 per adult, $5 for children over the age of 5, FREE for children under the age of 5, and PNW students are also FREE. For more info visit www.pnw.edu/gabis-arboretum.