By Dani Howe Danhauer, Social Media Strategist and Carolyn Hricik, Communications Intern
Apple picking will always be a fall must for me. Since this is my first fall in the Region I decided to do a little bit of everything! That means visiting all of the orchards, trying every donut, and picking the very best apples. Luckily, we have a few orchards in Northwest Indiana that offer apples, donuts, activities, and more.
Our first stop was County Line Orchard in Hobart. Shocked at just the size of the main building, I couldn't wait to get inside the minute I pulled up. The huge Red Barn at County Line Orchard stands tall in front of the endless rows of apple trees, welcoming you into fall. The doors swing open and the smell of freshly baked apple cinnamon donuts fills your nose and hijacks your senses. There's something about that mix of spices in 'the fall smell' that has mind control magic.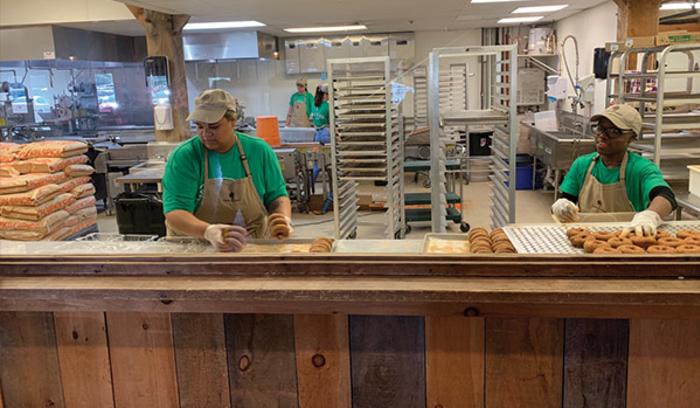 Suddenly, our baskets are full of every pumpkin, cinnamon and apple product we could get our hands on. Not to mention that I was next in line, shamelessly ordering three-dozen donuts for my family. Once my craving for donuts was satisfied we were able to continue enjoying the shopping experience inside.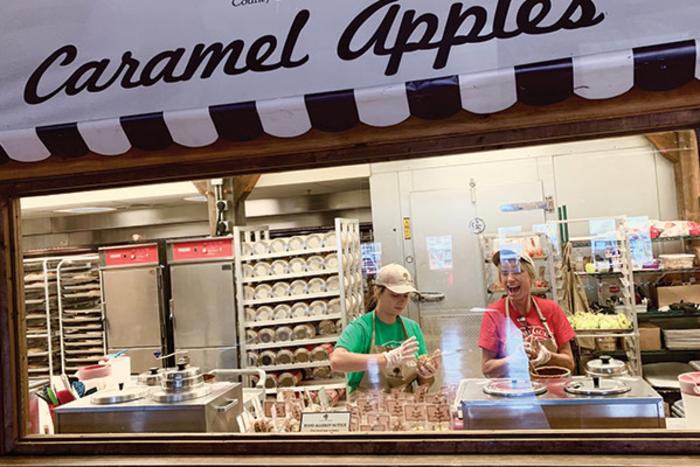 Windows on the far wooden wall opened up to ordering stations for every fall goodie you can imagine; from donuts to fudge to caramel apples to pie - you can find everything you're looking for here. One large aisle split the room in half, fully stocked with various types of honey, popcorn, salsas, dips and candies.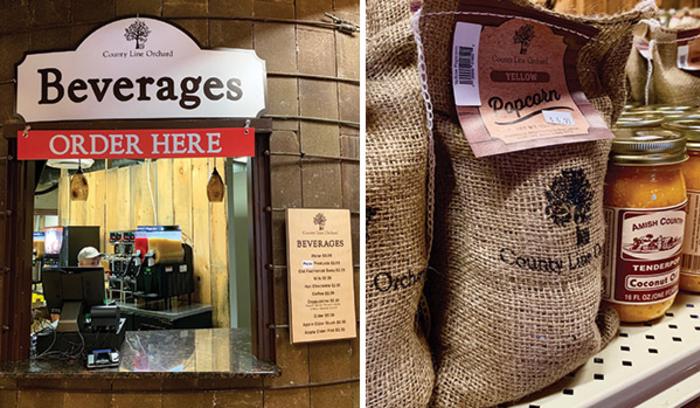 Spotting the drink window, we made sure to grab a couple of apple cider slushies, an all-time fall favorite. Bags of goodies in hand, we made our way upstairs to the balcony to sit at the picnic tables overlooking the shopping area to enjoy our drinks before heading outside to explore.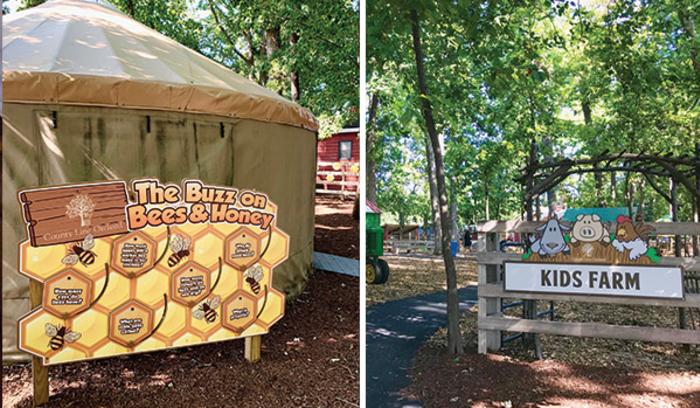 Outside we found the kid's farm full of animals for little ones to see and pet, and even a Bee Yurt to learn more about the impact of the little yellow pollinators! The orchard also had two different mazes. A complex and difficult corn maze and the other a kid-friendly soybean maze. To get to these you can hop on the wagon for a short ride out to the fields.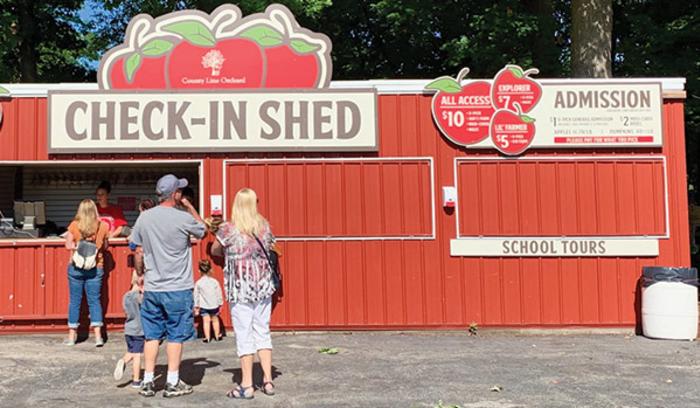 Right next to the wagon began the rows and rows of apple trees. County Line Orchard has, wait for it, 25 different varieties of apples at their orchard! They use their own apples to make their apple cider, slushies and baked goods in the Red Barn. If you don't want to go outside and pick the very best apples from the trees yourself, they do have the apples that are in season already bagged to take home.
If you're looking to stock up on yummy treats or spend the day with your family picking apples and enjoying the outdoors, County Line Orchard is a must.
---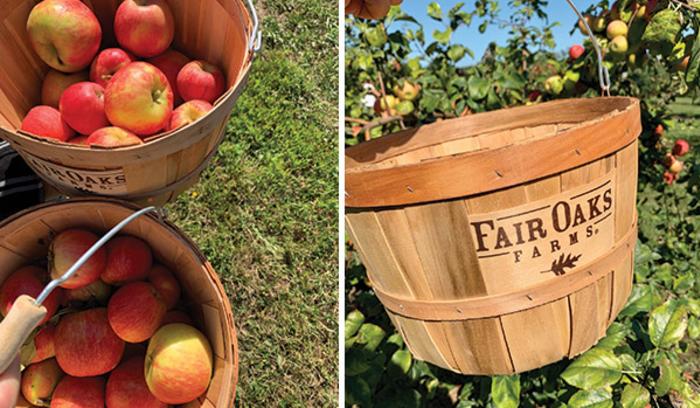 We also visited the brand new, 40-acre, Fair Oaks Farms Orchard. If you plan on staying at Fair Oaks longer than the day, ask the office about the orchard special at the Fairfield by Marriott® onsite.
Just a short 5-minute walk from the admission office, we went to the wagon where we met Matt, who I liked to call the "orchard master." This orchard has been Matt's project since the very beginning and you could tell when hearing him talk - he is passionate about his work. Matt knew every question we could throw at him about the trees, different apples, work needed for upkeep and anything else we could think of. To say he is an expert is an understatement!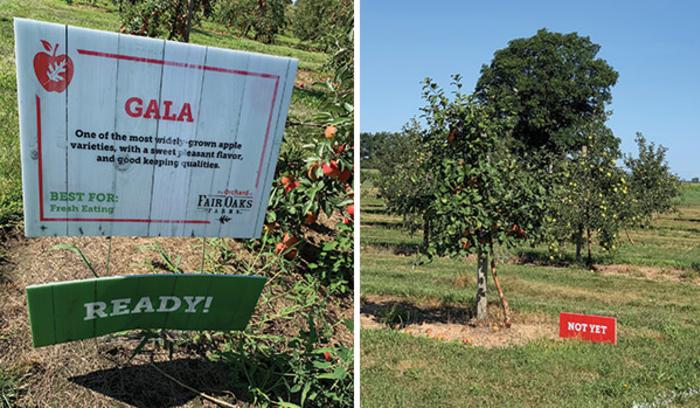 Matt drove the tractor pulling us in the wagon through rows and rows of little apple trees. Under the signs stating the type of apples in the row, there were smaller signs that read "Ready" or "Not Ready" depicting if the apples were ripe yet. We also learned you can visit the website to see a calendar of which apples are ripe during different times of the month.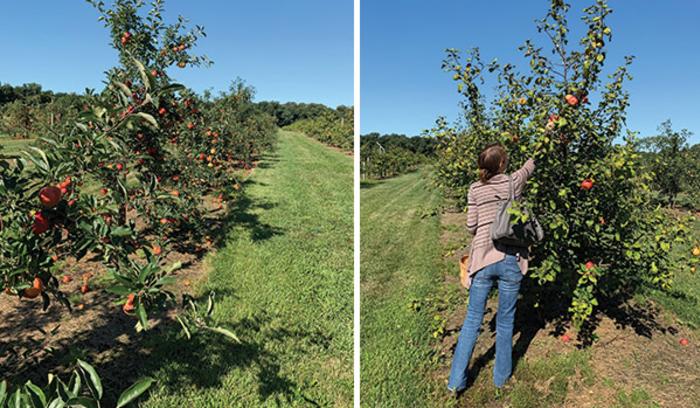 We hopped out next to the "Zestar" rows since those are the first to ripen during the season. You'll notice all the trees look a little smaller than other orchards you may have been to. Matt told us this is because they were bred with dwarf trees, to make the branches lower to the ground and easier for little ones to pick their own apples…Awh!
After picking apples until our bags were full we hopped onto the wagon and rode back to the campus where we followed the scent of cinnamon, pumpkin and apples into a large white tent. Inside the tent, we once again found my all-time favorite things about going to an orchard, apple cider slushies and fresh-baked donuts (que the mouthwatering).
---
Both of these orchards are must see this fall. Whether you wish to pick apples until your arms fall off, eat donuts until your belly is full, or simply spend quality time with family, both of these Northwest Indiana orchards are perfect for the occasion. They are only open until late October, so enjoy this fun fall activity while you can!