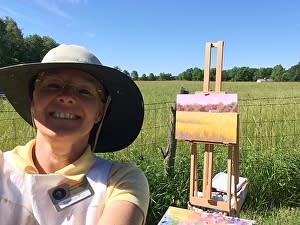 My discovery of Indiana Dunes National Park started with a tour by Ranger Jeff Manuszak who is an artist himself and knows what places to show other artists. He took me to see various beaches, trails, and dunes I might find interesting to paint. Here he is standing on Mount Baldy.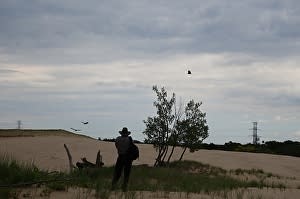 During the tour and throughout my time there, I took notes on the park map. These helped me organize days and keep track of the locations of the many paintings I did.

The National Park is actually made up of several distinct park locations along Lake Michigan with development and industry woven between the pristine beaches. There is also a beautiful State Park located in the middle of the National Park properties.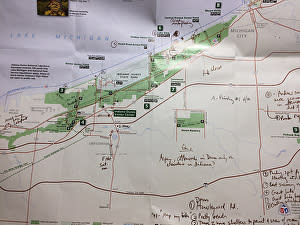 I was delighted to have a parking permit, t-shirt and badge allowing me access to special locations under construction and not open to the public.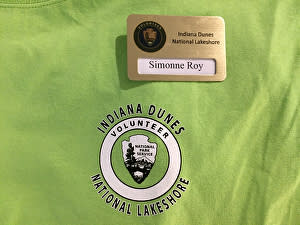 Most days started off by my "scouting" a painting location on foot with camera and sketchbook, leaving the gear in the car. Climbing the soft sand of the dunes was a challenge.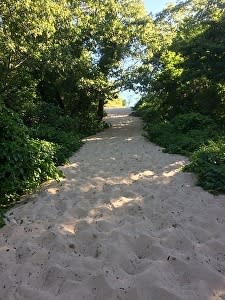 Once I found a spot, I would return for the cart with painting gear and umbrella. I couldn't have done the paintings without the sand cart!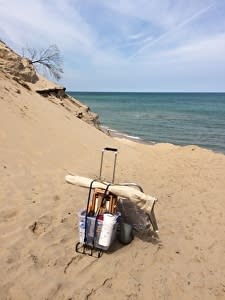 The mornings usually started with clear skies until late morning when beautiful cumulus clouds would move in from the west, growing larger throughout the afternoon. These dramatic clouds would create patterns of light and shadow moving across the dunes.

I would usually paint until about 11 a.m. when the light had shifted too much to continue effectively. After lunch I would move to another location and begin an afternoon session around 2 p.m. The clouds continually moving across the sky created a challenge - I would have to decide if I was painting a "cloudy day" or a "sunny day" then stick with that decision. This required patience - waiting for the light to return if I had chosen "sunny" or waiting for the clouds to return if I had chosen "cloudy."

Here I am painting around 5 p.m. at West Beach, one of my favorite spots in the park. In this painting I chose to have the distance in shade and the foreground in sun.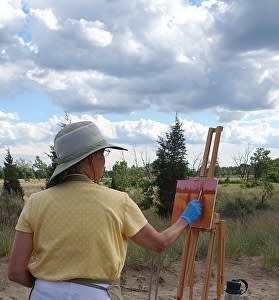 Often my days would end with a swim in Lake Michigan. Using swim fins and goggles, moving along the shoreline looking down at the pattern of ridges in the sand and pebbles between them, feeling the waves lifting me up and down, was a perfect way to end a day of standing in front of the easel!
I painted 13 out of 14 days of my residency, taking one day for a train trip into Chicago to discover the Art Institute and the Chicago Cultural Center, with a stop by an art supply store to buy canvas for my final dunes painting.

Looking back at the two weeks at Indiana Dunes, I can hardly believe my good fortune - perfect weather, great scenery, great hospitality from rangers and housemates. Would I do it again? YES!

It went so well that I'm going to look for another artist residency for 2018. Thank you for your comments which I encourage you to leave below.