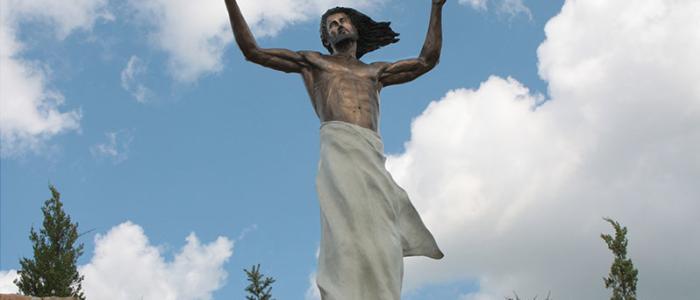 For current upcoming events, visit our events page here.
Planning on being in the South Shore area for the Easter holiday? Lots of events going on in Northwest Indiana that week: Easter egg hunts, brunches, pictures with the Easter Bunny or you can tour one of our most captivating attractions: The Shrine of Christ's Passion.
The Shrine of Christ's Passion in St. John brings the Passion of Christ to the eyes and ears of its visitors. The Shrine features an interactive half-mile winding pathway that begins with the Last Supper and Garden of Gethsemane. The 40 detailed life-size bronze statues are truly inspirational, and there are listening stations at each setting featuring the voice of Bill Kurtis describing the scene. 
FOR THE KIDS
On April 16, 2011, head down to Fair Oaks Farms in Fair Oaks for their 7th Annual Easter Egg Hunt. Cost for children includes one egg hunt, admission to the Adventure Center, Birthing Barn, Mooville plus photo with the Easter Bunny and kids' wagon rides. Egg hunts at Fair Oaks will run between 10am and 3pm.
Breakfast with the Easter Bunny and Egg Hunt at the Old Lake County Courthouse in Crown Point is also on April 16, 2011 in the morning.
Hammond Parks and Recreation is hosting egg hunts throughout the City of Hammond.
EASTER BRUNCH
Gathering the family together for a great Easter brunch is a tradition for many families and there are a number of choices in Northwest Indiana.
The Halls of St. George in Schererville is planning an exquisite menu including roasted leg of lamb, brown sugar ham and a made-to-order omelet station. You might also see the Easter Bunny himself.
The Center for Visual and Performing Arts in Munster has a brunch every Sunday, and Easter Sunday is no different. Enjoy carved roast beef and ham, fried chicken, roast pork in apple dressing, potatoes and breakfast items such as waffles, cheese blintzes and cinnamon toast.
Hope you all have a great holiday!