Whenever I am presented with the opportunity to dine at Lucrezia's in Crown Point, I jump at the chance to go. Not only do I enjoy dining in the historic Brown Mansion, but their delicious food is some of my favorite in the region.
On a recent Friday night, Staci and I met up for dinner at Lucrezia's. We didn't have to wait too long for our table and when we were seated and had ordered some drinks, our server brought us a basket of warm crusty bread, savory olive oil and a small bowl of freshly grated cheese. It was the perfect way to start our meal.
We took our time looking over the menus. With so many tempting options to choose from, it's always hard to make up my mind. I finally settled on the Sacchetti, which is described as porcini mushroom stuffed "purses." Having had this delectable entrée on a previous visit, I knew what to expect and was looking forward to the tender pasta, firm shrimp, fresh spinach and lick-your-plate-clean vodka cream sauce. I was not disappointed!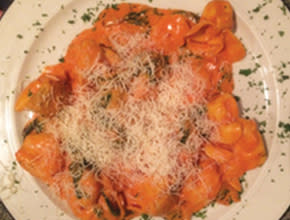 Staci is a fan of salmon, so she chose the Fettuccini Salmon, which consists of fresh salmon, fettuccini and scallions in a lemon dill cream sauce. It looked very fresh and colorful, and tasted delightful, according to Staci.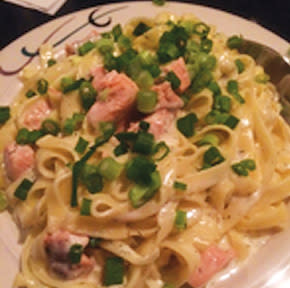 One of the other members of our group also got the Fettuccini Salmon, while the fourth chose the Stuffed Eggplant, which was thinly sliced eggplant rolled with prosciutto and mozzarella, baked in tomato cream sauce. That looked delicious, as well.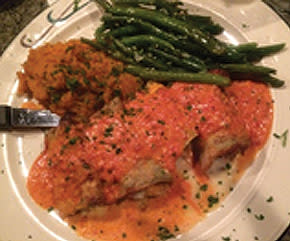 After a lovely and very satisfying meal, we were given a tour of the second floor of the mansion by Bob Miller, Lucrezia's general manager. Staci and I both had always been curious about what was at the top of the classically detailed staircase, and we were not disappointed. The architectural features of the rooms were very interesting. Bob told us that the second floor could be rented out for parties and events, and was complete with its own bar area. He said that a lot of Christmas parties were held there, as well as showers and such. Staci and I both agreed that it would make a terrific venue for any type of gathering.
If you haven't been to Lucrezia's Ristorante before, I highly recommend giving it a try. They are featuring a special menu until April 19th for the Savor the South Shore Restaurant Week. It's a great time to experience a new restaurant in the region, or revisit one you haven't been to lately. I know I'm going to be trying out as many as I can!
Contributing Editor: Amy Van Soest
Former communications coordinator with the South Shore CVA.