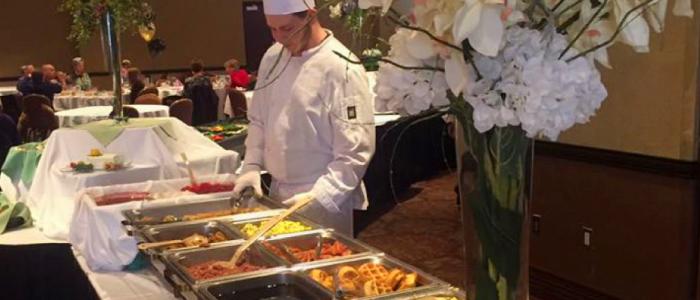 Eureka! You have come across a list featuring 2019 Easter Sunday brunches throughout Northwest Indiana. Take a peek at the restaurants listed below and make this year's brunch one to remember. Check back as we will continue to add more brunches as they are announced!
The Center for Visual and Performing Arts
1040 Ridge Road, Munster
11 a.m. to 2 p.m.
The Center for Visual and Performing Arts serves brunch every Sunday, but don't miss their holiday brunches on Easter, Mother's Day, Father's Day and Thanksgiving! The table will be brimming with delicious breakfast and luncheon dishes. The cost of the holiday brunch is $30 for adults, $15 for children 4-11, and $4 for under 4 (price does not include gratuity). Reservations are required on holidays, so claim your spots by calling 219-836-1930.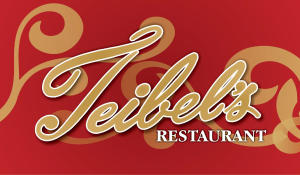 Teibel's Restaurant
1775 U.S. 41, Schererville
Details are still to come for Teibel's Easter specials, but reservations are filling up fast. Call 219-865-2000.
 
Dynasty Banquets
4125 S. Calumet Avenue, Hammond
11 a.m. to 2 p.m. 
If it's simple and sweet, Dynasty Banquets will have it to eat! Enjoy a delicious brunch this Easter Sunday with menu items including breakfast, ham, roast beef, pasta, salads, mashed potatoes and more. A full meal including desserts and drinks is only $22.95 for adults, $19.95 for seniors, $8.95 for children 5-10 and $4.95 for 2-4 year olds. Make your reservations now by calling 219-933-0500.
 
Centennial Park
1005 S. Centennial Dr., Munster
Seatings at 12 p.m. and 2:30 p.m.
Join Centennial Park for a classic Easter brunch with your loved ones! Cost is $29.95 for adults and $12.95 for 12 and under. Reservations are required so book now!

Jak's Warehouse
SATURDAY, APRIL 20, 2019
221 Indianapolis Blvd., Schererville
9 a.m. to 12 p.m.
JAK'S Warehouse is having their own family-friendly Easter brunch on Saturday, April 20, 2019. $30 general admission includes brunch, $10 game card, egg hunt (for 12 and under), face painting and pictures with the bunny. Dark ride is not included. Adults can purchase brunch for $10. Get your tickets and view the schedule here.
 
Patrician Banquet
410 E. US Hwy 30, Schererville
10 a.m. to 2 p.m.
The Patrician Banquet will serve up hors d'oeuvres, entrees, breakfast and a dessert station for Easter. A carving station will feature ham and roasted New York strip. Breakfast includes eggs, bacon, cheese blintz with blueberries, hash browns and sausage. Reservations are 10:00 a.m, 11:30 a.m., noon, 12:30 p.m. and 2:00 p.m. There's also an Easter egg hunt at 10:000 a.m. Adults are $30 and children 4-10 are $15. Call 219-864-4000 for reservations. Find out more here about Patrician's buffet.
 

Ciao Bella
1514 U.S. 41, Schererville
10 a.m. to 5 p.m.
Say "hi" to a beautiful Sunday - an Easter brunch buffet is being served at Ciao Bella. Tickets cost $29.95 for adults and $15.95 for children 10 and under (tax and gratuity not included). Buffet includes traditional fare as well as penne alfredo, farfalle pomodoro, rigatoni bolognese and more. See the full menu here for Ciao Bella's brunch. Call 219-322-6800 to book your family today.
 
Gamba Ristorante
455 E. 84th Drive, Merrillville
11 a.m. to 4 p.m.
Omelet you in on a secret - one of Indiana's most romantic restaurants is hosting an Easter brunch. Plates are $43 per adult, and children 12 and under eat for $15 (plus tax and gratuity). Find out more about Gamba's brunch here.
 
Villa Cesare
900 Eagle Ridge Dr​., Schererville
10 a.m. to 2 p.m.
Villa Cesare is getting ready to serve a delicious Easter Brunch! Enjoy breakfast, carving station, cold salads, omelette station, lunch entrees and desserts. Cost is $30 per adult and $15 for kids 6-11. Accepting reservations only - no pre-sold tickets. More info here on Villa Cesare's brunch.
 
Harvest Room
9625 Calumet Ave., Munster
7 a.m. to 4 p.m.
Harvest Room will be serving a limited breakfast menu from 7 a.m. until 12 noon, then offer a limited Brunch and Easter menu after that including grass fed prime rib, natural sliced ham, spring vegetable risotto (vegan/gluten free), and other items.  Reservations are HIGHLY SUGGESTED. Call (219) 595-5575. Check their facebook event for their menu.
 
Signature Banquets
1908 E. Commercial Ave., Lowell
10 a.m. to 3 p.m.
Feast on exquisite brunch selections prepared by the chefs at Signature Banquets. Brunch will feature traditional favorites: scrambled eggs, Belgium waffles, French toast casserole, homemade biscuits and country sausage gravy, hickory smoked bacon, sausage links, fried chicken, Polish sausage and kraut, fried perch, penne marinara, whipped potatoes, roasted red potatoes and vegetable medley. They will also have a cooked to order omelette station! Find out more here.

More Easter Activities
Looking for other things to do for Easter in Northwest Indiana? Visit our blog on Easter activities here.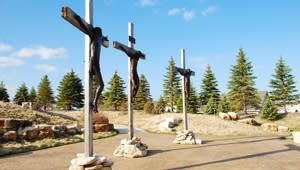 The Shrine of Christ's Passion
10630 Wicker Avenue, St. John
10 a.m. to 5 p.m.
Don't forget to take a visit to The Shrine of Christ's Passion this Easter Sunday! More than 40 life-sized bronze sculptures along its half-mile journey detail the events of the Last Supper, the Garden of Gethsemane and the Stations of the Cross. The Shrine is completely handicap accessible and golf carts are available for anyone needing mobility assistance. If the Easter Bunny seemed a bit too slack on the baskets, know that The Shrine is also home to the grandest spiritual gift shop along the South Shore.

However you plan to spend your Easter Sunday, we hope it's a great day spent with family and friends!