Chesterton's culinary jewel
Lucrezia's Ristorante in Crown Point is one of my favorite restaurants in the region, which is why when I had the opportunity to wander downtown Chesterton the other day, I jumped at the chance to stop in Good to Go by Lucrezia. My expectations were high – and my experience exceeded those expectations!
Located in a cute little house near historic downtown Chesterton, this tiny but amazing shop had a great selection of items, including yummy-looking ready-to-take-home-and-reheat entrees from next-door Lucrezia. I was warmly greeted upon entering the store, which always makes for a good first impression.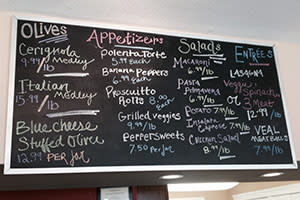 I was immediately drawn to the displays at the back of the store. Neatly arranged shelves of wine caught my eye. The saleswoman told me that the majority of the wines carried by Good to Go are unique to the area and unavailable at other local businesses. I like unique. I like attractive. I like local. Good to Go already hit a homerun with me.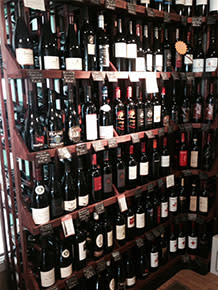 As I wandered around the store, checking out the specialty cheeses, sauces, spices, relishes and meats, my eyes kept straying back to the gleaming silver urns neatly lined up at the front of the store. I had realized upon entering that they contained olive oils and balsamic vinegars, of course, but my limited knowledge of such refined foodie items had made me shy away from them.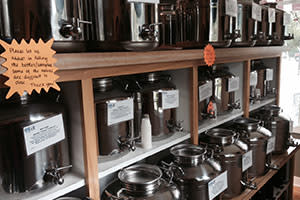 Finally, I couldn't contain my curiosity anymore. I simply had to ask. I hoped that I didn't look foolish because of my limited experience cooking with anything fancier than vegetable oil and red wine vinegar.
To my great delight, the saleswoman who had greeted me so warmly before, was happy to explain to me the differences in olive oils and balsamic vinegars, even offering samples for me to try. She patiently answered all of my questions, giving me great tips and ideas for using different items when cooking. I was inspired to go home and try something new for dinner!
She helped me pick out some great olive oil, a spice mix, balsamic vinegar and a jar of roasted, marinated red peppers. I can't wait to try them in my next roasted vegetable and chicken dish. And I can't wait to make another trip to Good to Go – who knows how I'll be inspired next time!
Good to Go Chesterton
420 S. Calumet
Chesterton, IN 46304
Phone: (219) 926-3866 
Good to Go Valparaiso
54 W. Lincolnway
Valparaiso, IN 46383
Phone: (219) 286-7668 
Contributing Editor: Amy Van Soest
Former communications coordinator with the South Shore CVA.