Hash browns. I LOVE hash browns. They're crispy mounds of potato yumminess. In my personal opinion, perfectly cooked hash browns are a rare and wondrous find.
You're probably asking yourself why on earth I'm talking about hash browns in a blog that's supposed to be about healthy eating options. Well, let me explain.
I had the opportunity to visit Third Coast Spice Café in Chesterton a while back and try their delicious food. Third Coast is all about healthy dining options and stresses using fresh, organic local ingredients whenever possible. They even cater to diners with dietary restrictions and allergies.
Chef and owner David Wodrich took the time to explain to me how their food is minimally processed, thoughtfully prepared and wonderfully healthy, even if it's not always low in calories. He explained that they make their food from scratch and that they use healthy ingredients in their dishes, so I was eager to try one out.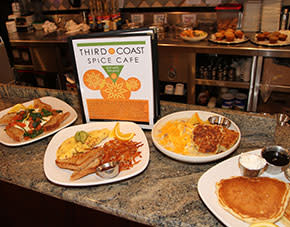 Now when I dine out, I like to order dishes that I can't make at home. I'm a fairly good cook, or so I've been told, but there are still things that I can't make properly. Omelets are one of the biggies. So with that in mind, I ordered the Third Coast omelet. Filled with peppered bacon, caramelized onion, tomato and sharp cheddar cheese with a dollop of creamy avocado on top, the description of this omelet made my mouth water.
When the friendly server set my meal down in front of me, the amazing aroma made my mouth water even more. All of my expectations were exceeded. The omelet was so flavorful, fluffy and fresh-tasting that I savored every bite. What I wasn't expecting was the sublimity of the accompanying hash browns. With my very first bite, I knew that these were the best hash browns I had ever tasted.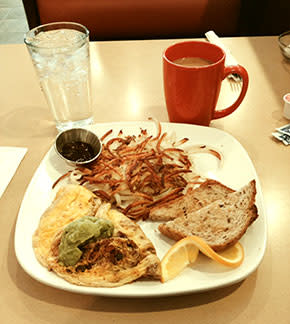 After I finished eating my fabulous omelet and divine hash browns, Chef David asked how I had enjoyed my meal. After giving him a glowing report, he explained that the reason their hash browns are so delicious is because they make them fresh daily, boiling real potatoes and hand grating them. It's more time consuming, of course, but the end product makes it all worth it.
If you're looking for fabulous, healthy food, make sure to check out Third Coast Spice Café. They're open for breakfast and lunch daily from 6 a.m. to 3 p.m. And don't forget to order the hash browns - I guarantee you will not regret it!
Contributing Editor: Amy Van Soest
Former communications coordinator with the South Shore CVA.