It is an exciting time to be a park ranger at Indiana Dunes National Lakeshore! The birds are back, the spring ephemeral flowers are blooming and the sand is singing on the beaches of Lake Michigan. It's time to celebrate! Next year is the National Park Service's 100th birthday and the National Lakeshore's 50th.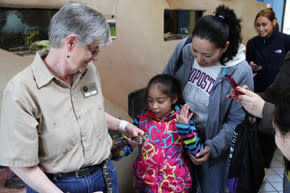 As part of the Centennial celebration, our partners at the National Park Foundation have launched the "Find Your Park" campaign with a huge media blitz. Check out their videos and information on the foundation's web site: www.findyourpark.com.
Finding your park is easy here in Northwest Indiana. The national lakeshore spans all three counties with 15 miles of sandy beaches and more than 45 miles of trails.
The celebrations begin in earnest next week with National Park Week from April 18-26, 2015. National lakeshore visitors can help us celebrate by participating in our annual Earth Day program, Green Gary, on Saturday, April 25 from 10 a.m. to 4 p.m. It takes place at the Paul H. Douglas Center for Environmental Education and at Marquette Park in Gary. Green Gary is conducted in partnership with the Gary Parks and Recreation Department and it features a day full of fun and free activities.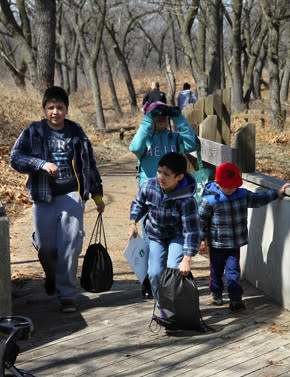 Some highlights planned for Green Gary include:
• Hike with a ranger around Miller Woods and out to the beach for the more adventurous.
• Participate in restoration work in the oak savanna habitat, cutting out invasive brush from 9 a.m. to 12 p.m.
• Learn about the Buffalo Soldiers with Stagecoach Productions at Marquette Park.
• Talk to a wildland firefighter from the National Park Service fire crew.
• Earn a Junior Ranger badge from the national lakeshore and meet Aida Frey, a junior ranger who has collected more than 250 national park Junior Ranger badges.
So come out and join the celebration and connect with your neighborhood national park - Indiana Dunes National Lakeshore!