Walking into The Center for Visual and Performing Arts, home to Theatre at the Center, the atmosphere immediately makes you feel the old thrill of getting dolled up and going to see a show. The pride and love of theater and the arts is obvious in the décor of the main lobby. Photos of past shows cover the outer auditorium walls, displaying the memories of shows past.Ranging from Cats to The Wiz, Theatre at the Center is no stranger to elaborate productions. After browsing through the playbill, the lights of the main house flickered on and off signaling it was almost time for the show to begin. The remaining audience members did their last sweep of the photos on the wall and trickled into the theater, taking their seats. 
The show began with a little boy, Rudy, sitting in a desk as his teacher Sister Clarissa quizzes him on the Chief Spiritual Works of Mercy. This was an all too familiar callback to a Catholic school upbringing of nuns with rulers for many in the audience. Despite the reminder, they chuckled along to jokes and quick-witted lines exchanged by both the main character Rudy and his arch-nemesis, Sister Clarissa. The show kept the same light energy of snappy quick humor contrasted with thought provoking conversations between parent and child, husband and wife, encouraging the audience to connect with the familiar issues of American family life.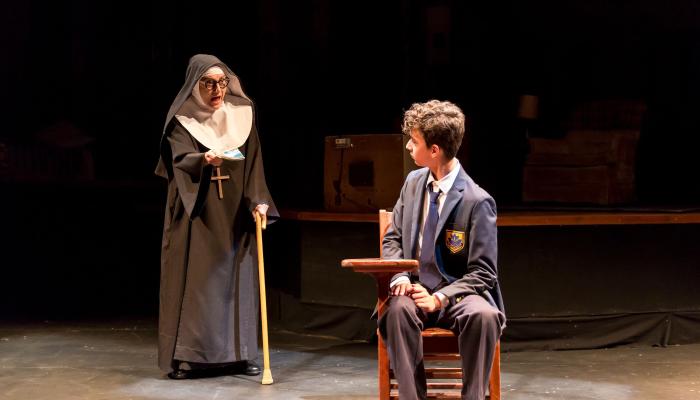 Janet Ulrich Brooks as Sister Clarissa & Logan Baffico as Rudy Pazinski
Although the play is set nearly 70 years ago, the conversations and situations were surprisingly relatable, making it easy for the audience to immerse themselves in the characters world. The actors gave life to the characters and delivered their lines with such authenticity, Over The Tavern gave a true glimpse into the life of author Tom Dudzick, who wrote the semi-autobiographical piece.
The actors didn't miss a beat in the rapid-fire arguments or intelligently placed one-liners. The open-concept set design allowed the audience to feel like they were comfortably sitting in the living room of the Pazinski family while the actors ran from kitchen to bedroom to living room. Everything from the script dialogue to set and costumes embellished the raw talent at the foundation of this production.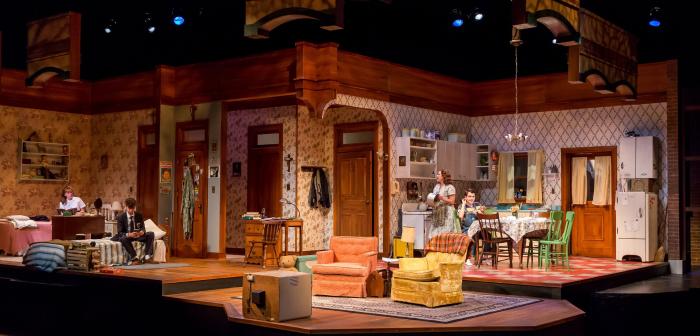 (From left to right) Isabelle Roberts as Annie Pazinski, Logan Baffico as Rudy Pazinski, Cory Goodrich as Ellen Pazinski & Julian Solis as Georgie Pazinski
This newly opened production is a guaranteed hit, coming as no surprise to those who frequent the high caliber performances at Theatre at the Center. If you're a theatre lover or just enjoy listening to a good story, take the evening and go spend it with the Pazinski family in their apartment Over The Tavern. You wont regret it. 
To purchase your ticket or browse upcoming shows, visit Theatre at the Center's website linked here.