Walking up to the impressive Farmhouse Restaurant at Fair Oaks Farms on a cold, dreary day made me long for summer. Why, you might ask? Well, the restaurant has a fabulous wrap-around porch, complete with comfortable seating and plenty of tables - and there's nothing I like more than dining alfresco, just not at this time of year.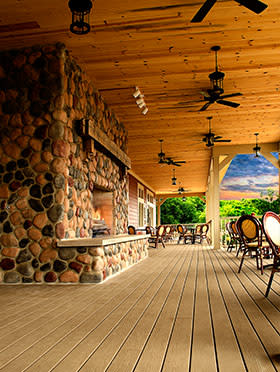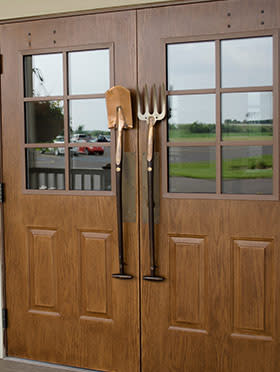 As I crossed the beautiful porch and entered through the front doors (which have farm tools as handles), I was immediately taken by the warm, friendly atmosphere of the Farmhouse. Tastefully decorated in an American farm style, complete with a massive stone fireplace and artwork by local artists, this farm-to-table restaurant quickly piqued my interest.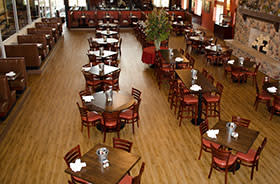 I had the opportunity to meet with Brent Brashier, Farmhouse Restaurant's general manager. As we sat at the table visiting, he encouraged me to try something from the menu. The Farmhouse Bacon Sampler had caught my eye when I was perusing the11 menu, so he graciously ordered it for us. It smelled delicious when it was delivered to the table, and it looked as good as it smelled. Brent encouraged me to try each of the different versions of the bacon with the individual sauces so that I could taste the distinct flavors coming through. All the variations were yummy, but my absolute favorite was the smoked bacon with cowboy mustard. I gave it two thumbs up!
We talked about the restaurant's commitment to serving the freshest farm fare possible. Brent stated that upwards of 75 percent of the food served at the Farmhouse Restaurant is locally grown or raised, and that number will increase to almost 100 percent in the near future. He also explained how transparency (the kitchen is glass-encased) and traceability are important aspects of being a farm-to-table restaurant. Executive Chef Paul Polizzi personally selects the pork and beef on the menu, and can trace each animal back to the farm it was raised on. Brent recommended that I try the seasonal vegetable, Brussels sprouts. I like Brussels sprouts generally, but let me tell you - these were no ordinary Brussels sprouts. They were crispy and caramelized and sweet! So yummy!
I wish I had the time and appetite to enjoy a complete meal at the Farmhouse Restaurant, but unfortunately, I didn't. I did savor the dishes that I got to try, and can't wait to get back there for a delicious and relaxing meal. And as much as I love dining alfresco, you can bet that I won't wait till the weather warms up before I head back to the Farmhouse! Here's just a few of the delicious items offered on the Farmhouse's menu: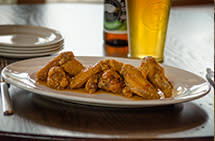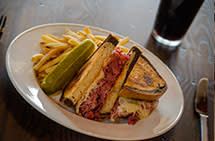 The Farmhouse Restaurant can accommodate groups of any size, so whether you're heading out for an intimate meal for two or with a big group of friends, Farmhouse will be an ideal place for a get-out-of-the-kitchen, time-to-relax-and-enjoy-the-holidays meal. And while you're there, don't forget to check out The Market. Located adjacent to the Farmhouse Restaurant, this neat store carries a great selection of local wines and craft brews, produce, freshly made bakery yumminess, meat and of course, Fair Oaks Farms' award-winning cheeses.
Contributing Editor: Amy Van Soest
Former communications coordinator with the South Shore CVA.