Please note: We recommend calling ahead to businesses and attractions you plan to visit for requirements and hours of operation.
J.C. Murphy Lake
County Road 100 N
Morocco, IN 47963
Phone: (219) 285-2704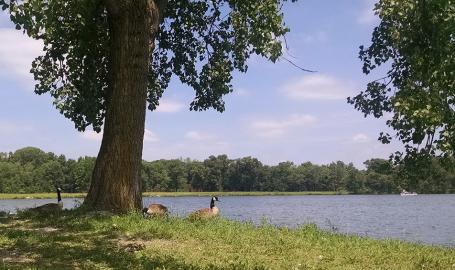 Willow Slough began with the purchase of 7,800 acres of land in 1949. Land acquisition continued to bring the total size to 9,956 acres. J.C. Murphey Lake was completed in 1951. Willow Slough Fish & Wildlife Area provides 1,200 acres of available fishing in J.C. Murphey Lake and numerous ponds. Shoreline fishing available only on designated piers and below the picnic area. Two boat ramps are provided near the headquarters. Boats may be launched only at the headquarters area. For the ice-fishing season, access to the back of the lake is afforded after deer muzzleloader season has ended. Fishing areas accessible to persons with disabilities are available. Ask for details. Swimming is prohibited. All visitors must obtain a one-day access permit before entering the field, regardless of their activity. The one-day access permit must be kept with you while visiting and must be completed and returned to a self-service booth, drop box, or the office before leaving.