Please note: We recommend calling ahead to businesses and attractions you plan to visit for requirements and hours of operation.
Lake View Beach
NW Corner of Lakefront Drive & Broadway Street
Beverly Shores, IN 46301
Phone: (219) 926-7561
Website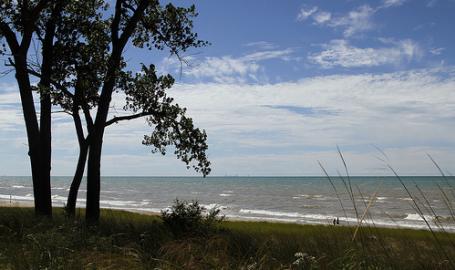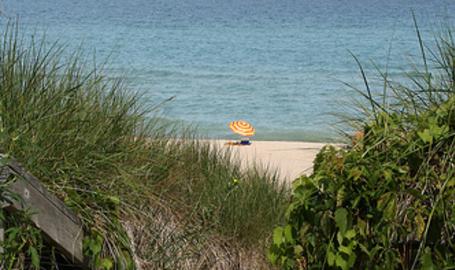 Part of the Indiana Dunes National Park.

National Park Notice: Whether you are vaccinated or not, masks are now required in all buildings within the Indiana Dunes National Park.
Lake View's covered picnic areas offer stunning views of Lake Michigan. There are stairs leading to the beach from the picnic area. Lake View Beach can be accessed from nearby Dunbar Beach. 
Safety note - Lake View Beach does not have lifeguards. Swim at your own risk. Do not swim in Lake Michigan when Rip Current warnings are posted or in large crashing waves, which can cause rip currents. These strong currents rushing out into Lake Michigan can carry even the strongest swimmer with them. If you get caught in a rip current, do not try to swim against it. Instead, swim parallel to the shoreline until you are out of the current. Even with calm water, non-swimmers and children should always be very closely monitored by an adult. Check for beach hazard warnings before you go.
Pets are permitted on a leash (6' or shorter). Alcohol permitted when used responsibly. Glass containers are prohibited on all beaches. Smelt fishing in the spring (no permit required).
Cooking fires at the picnic shelters are permitted in the provided grills or an approved carry-in grill. An approved grill is a noncombustible container with an enclosed bottom and enclosed sides with a minimum depth of 2 inches. 
Hours: 6 am to 11 pm, daily
Amenities: Parking for cars, information board listing current park activities, year-round restrooms and portable water, picnic tables and shelters.
Parking: Lot has 25 spots and quickly fills up on summer weekends. Do NOT park in the Town of Beverly Shores' beach parking lot, which is located just to the east of the Lake View lot. You will get ticketed. The town is very strict.
You can also walk past five historic homes from the 1933 Century of Progress World's Fair, which are located 1/3 mile to the west along Lake Front Drive.
For recorded information on available parking at Indiana Dunes National Park beaches and the nearby Indiana Dunes State Park call 219-395-1003. 
Directions:
1. Starting at Interstate 94 and Indiana 49, go north about 3 miles to U.S. Highway 12.
2. The exit to U.S. Highway 12 is on the left.
3. Turn right (east) and go 5 miles on U.S. 12 to the stop light at Broadway.
4. Turn left (north) and go till the road ends 5. Turn left on Lake Front Drive, then park on the left facing the lake.