Please note: We recommend calling ahead to businesses and attractions you plan to visit for requirements and hours of operation.
Mount Baldy
Highway 12 & County Line Road
Michigan City, IN 46360
Phone: (219) 926-7561
Website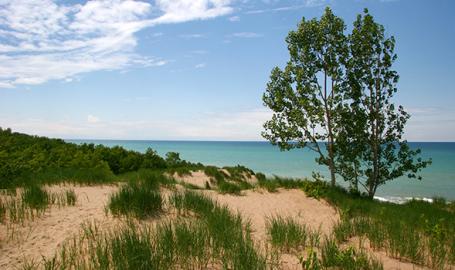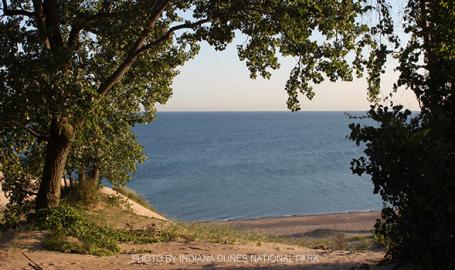 National Park Notice: Whether you are vaccinated or not, masks are now required in all buildings within the Indiana Dunes National Park.
Part of the Indiana Dunes National Park.
The beach is open at Mount Baldy, however the dune at Mount Baldy remains closed for public safety and dune protection. While visitors can no longer climb the Mount Baldy dune, weekly ranger-guided hikes are offered to the top of the dune. Visit our Indiana Dunes events page for dates and times of any upcoming hikes.
Beach info and access: When there are high lake levels, the beach area may be limited. Access to the beach is from the Mount Baldy parking lot via a designated trail directly west of the dune. The trail is about 1/2 mile long and somewhat strenuous. The trail travels through an oak woodland and a newly marked trail will guide visitors from the wooded trail down to the beach. Please use only the marked route for your safety and resource protection and pay attention to all park signs.
Safety note: Swim at your own risk. There are no lifeguards at this beach so swimmers must understand the dangers of Lake Michigan before entering the water. Do not swim in Lake Michigan when Rip Current warnings are posted or in large crashing waves, which can cause rip currents. These strong currents rushing out into Lake Michigan can carry even the strongest swimmer with them. If you get caught in a rip current, do not try to swim against it. Instead, swim parallel to the shoreline until you are out of the current. Even with calm water, non-swimmers and children should always be very closely monitored by an adult. Check for beach hazard warnings before you go.
Hours: The beach is open from 6:00 am to 11:00 pm.
Parking: This is a very popular beach area and the parking lot is expected to fill quickly. Visitors are advised to arrive early on weekends and holidays to get a parking spot. Call 219-395-1003 to get recorded information on available parking at Indiana Dunes National Park beaches and the nearby Indiana Dunes State Park.
There are no trash cans provided, so beach goers are asked to pack out their trash.