Please note: We recommend calling ahead to businesses and attractions you plan to visit for requirements and hours of operation.
Tolleston Dunes Trail
Hillcrest Rd. & Dunes Hwy.
Portage, IN 46368
Phone: (219) 926-7561
Website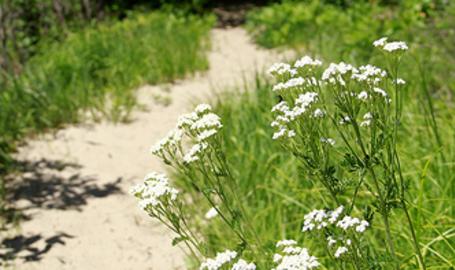 Part of the
Indiana Dunes National Park.
This scenic trail leads up and down the high ridges of the Tolleston Dunes, formed about 10,000 years ago when Lake Michigan was 25 feet higher than it is today. Preserve Tolleston Dunes for future generations—do not walk off the trails, pick wildflowers, or disturb animal habitats. Walk to the accessible overlook that has interpretive wayside exhibits. Cross-country ski when snow permits. Hike the trail year-round.
Hours: Area opens at 7 am and closes 30 minutes past sunset, daily.
Amenities: Parking for cars, porta-potty, information board listing current park activities.
Directions:
1. Starting at I-94 and Indiana 49, go north about 3 miles to U.S. Highway 12.
2. Exit to U.S. Highway 12 (exit is on the left).
3. Turn left (west) onto U.S. Highway 12/Dunes Highway.
4. Take U.S. Highway 12 west for 8 miles.
5. Turn left into the Tolleston Dunes parking area, just past Ogden Dunes train station.