Please note: We recommend calling ahead to businesses and attractions you plan to visit for requirements and hours of operation.
West Beach
376 North County Line Road
Gary, IN 46303
Phone: (219) 926-7561
Website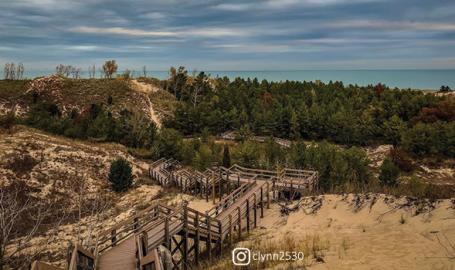 National Park Notice: Whether you are vaccinated or not, masks are now required in all buildings within the Indiana Dunes National Park.
Part of the Indiana Dunes National Park.
Sledding is permitted at one location in the Indiana Dunes National Park: just southwest of the West Beach picnic shelters on the west-facing slope of the West Beach Trails. Limiting sledding to this one area protects the natural landscape and dune grasses. Please call the Indiana Dunes Visitor Center at 219-395-1882 with any questions.
Hours: 8 am to 9 pm Memorial Day through Labor Day. 7 am to 30 minutes after sunset the remainder of the year.
Fees: $6.00 per vehicle or motorcycle per day, $30.00 per bus per day. 50% discount for Senior and Access Passes.
Lot capacity: About 300 cars. There is a 0.3 mile walk from the parking lot to the beach.
Notes: West Beach is the southernmost tip of Lake Michigan and serves as a research area for universities. Also offering a variety of trails to explore the scenery. Pets are not permitted on the beach. Pets are permitted on a leash (6' or shorter) on trails, at picnic shelters and at the parking lots. Glass containers are prohibited on all beaches.
Directions: Take U.S. 20 to County Line Road, head north and follow signs.