Bartlett's Fish Camp
Restaurant Weeks Menu
The region's only raw bar with Michigan City's closest waterfront dining.

12 on the Lake
Michigan City, IN 46360
(219) 879-9544

See our Facebook page for bridge detour directions.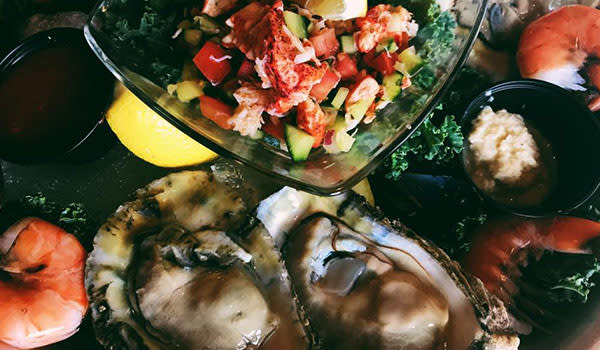 Menu
Hours available: Sunday, Wednesday, Thursday and Friday only. Special not available on Saturday, closed Monday and Tuesday.
Cost: $60 for two people
Not including beverage, tax or gratuity. No substitutions please.

First Course (choose one to share):
- Daily Ceviche -
Blend of seafood du jour, light jalapeño, tomato, peppers and fresh citrus juices, served with house-fried tortilla chips
- Our Gojuchang Chicken Wings -
Brined for tenderness and fried "naked", tossed in slightly spicy teriyaki, served with celery sticks and garlic cucumber yogurt dipping; buffalo also available
- Crispy Oven Roasted Brussel Sprouts -
Olive oil and sea salt toss, served warm with sherry vinegar syrup, gorgonzola and smoked almonds
- Wild Mushroom Arancini Croquettes -
Panko-crusted, crispy, fried yet creamy parmesan risotto fritters with mushrooms, served with basil marinara sauce
- French Steamed Mussels -
Steamed in white wine, shallot, fennel, tomato, finished with garlic herb butter


Second Course (one per person):
- Side Caesar Salad -
- Side Lakeside House Salad with House Garlic Vinaigrette -
- Cup Clam Chowder -
- Cup Soup du Jour -

Entrée Course (one per person):
- Kill Me with Garlic Wood Fired Grilled Chicken -
With sweet roasted garlic, fresh herbs, lemon, grape tomatoes and capers, finished with a white wine butter atop smashed red skin potatoes and grilled veggies
- East Coast Maine Lobster Roll -
Topped with celery-cucumber relish and citrus tarragon aioli, served with kettle chips and slaw
- Fish N Chips -
Hand-battered haddock, fried 'til crispy, served with house fries, apple slaw and malt vinegar caper sauce
- Garlic Clam Linguine Vongole -
Tossed in a white wine butter, topped with scallions and toasted panko breadcrumbs
- Vegetarian Red Quinoa and Roasted Mushrooms -
With grilled veggies, topped with crumbled feta and fresh herbs
- Salmon du Jour -

Dessert Course (choose one to share):
Your server will clue you in. (Choice of three desserts, to keep plentiful on hand, including Crème Brulee)