Family Friendly
Portage Lakefront and Riverwalk Trail @ Indiana Dunes National Park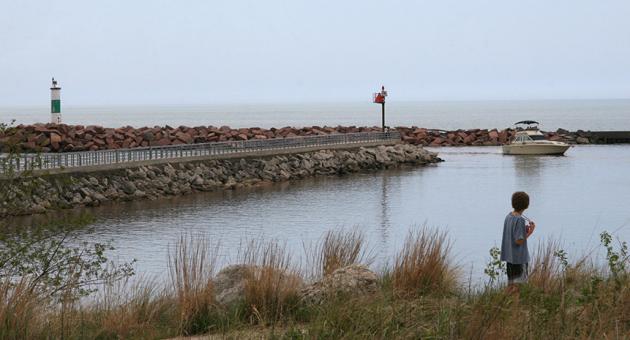 Difficulty

Easy

Distance

.9 ml

Duration

.75 hr

Ascent

39 ft
100 Riverwalk Road, Portage, IN 46368
Partial Trail Closure at Portage Lakefront and Riverwalk
Closed portion of Portage Lakefront and Riverwalk Trail along Burns Waterway due to unsafe conditions from erosional damage. This trail portion will remain closed while funding is sought for repair work. Pier access remains open on either side of closure.
---
This featured hike is a loop style trail and is mostly wheelchair accessible. Starting at the pavilion, pick up the trail heading south on the east side of the road off the traffic circle. The trail will wind through restored dune habitat. After approximately a half a mile, the trail crosses the road, goes down a set of stairs, and heads back north on a boardwalk along the Burns Waterway to the pavilion.

History and Background
Portage Lakefront and Riverwalk opened in October 2008. The redevelopment of the site, formerly used by a steel corporation as settling ponds for industrial byproduct and a sewage treatment facility, is a successful model of brownfield reclamation. The land, buildings, and facilities at the site are owned by the National Park Service and operated in partnership with the City of Portage. To learn more about public programs offered there, contact the Portage Parks and Recreation Department at (219) 762-1675, extension 301.
Hours – Open daily from 6:00 am to 11:00 pm Central Time.
Hike Length – 0.9 miles.
Hike Time – 45 minutes.
Difficulty – Easy with no change in elevation.
Trail Surface – Paved with some sections of boardwalk and one set of stairs. Be aware, trail conditions can change quickly due to high lake levels and storms.
Facilities – Year-round restrooms and potable water when the pavilion is open.
Pets are permitted on a leash (6' or shorter). Pets are prohibited inside the pavilion.
Accessibility
The pavilion is wheelchair accessible. The trail is wheelchair accessible with the exception of stairs at the southern end of the riverwalk boardwalk.
Safety
Please stay on the trail and respect closed area signs. Going off trail damages fragile habitat.
Ticks are present year-round. Take precautionary measures to prevent bites.
Poison ivy can be present on the edges of the trail.
Be prepared for changing weather conditions.
In case of an emergency or to report a crime, call 1-800-PARK-TIP.
Part of the Indiana Dunes National Park